To a mix of excitement and surprise, Google have launched their new Google Posts feature, allowing all Google My Business customers to microblog directly onto the search results stream, enabling brands to reach their audience with unprecedented ease.
The Google Posts interface was first trialled in January 2016, in the build-up to the US election: Google gave electoral candidates the chance to summarise their responses to pressing political concerns in posts of up to 14,400 characters, and then made those responses visible on relevant search queries.  Searching for issue X, for instance, would show you the stances of politicians Y and Z towards it.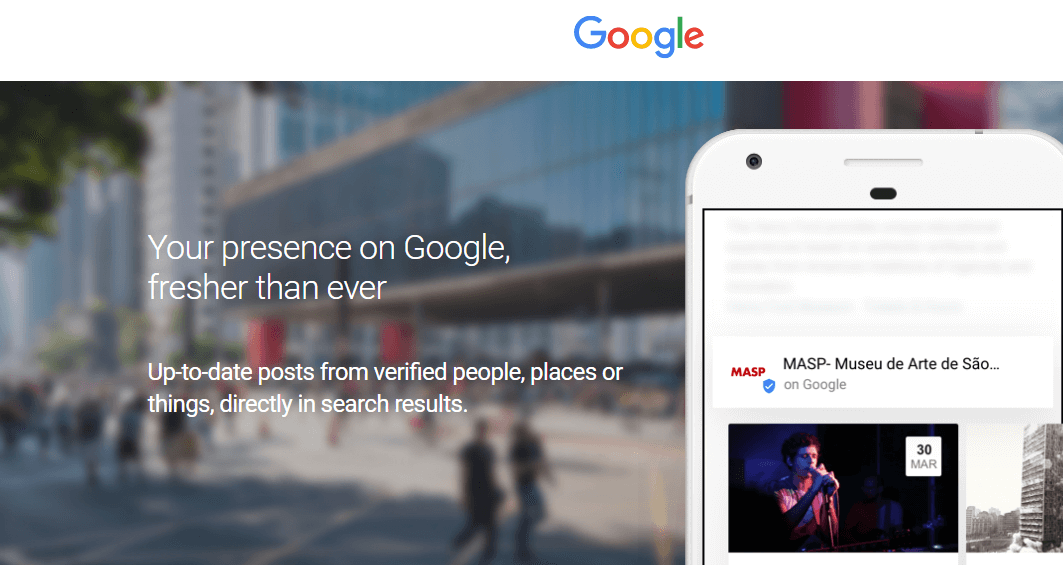 A year and a half later, Google has completely reimagined the tool and expanded its availability, now enabling all businesses to post content directly to the search feed.
Brands' posts will be visible for up to seven days before they disappear, exhibited in a scrollable carousel that rotates up to ten posts at a time, in a move that encourages businesses to keep their content fresh and vibrant.
Like Facebook and Twitter, posts can be brought to life with images and photography, although the interface doesn't currently support GIFs or video. There's a 300 words limit; only the first 100 characters will appear immediately in the Knowledge Panel, encouraging brands to balance creativity and concision when delivering their message.
There're various ways that posts can be made more actionable: they can be created as 'events', causing the content to display for the event's duration as defined by the user, or they can be rounded off with a call to action, be it a link for users to follow for more information, or an 'add to cart' functionality for quick and easy purchasing.
The whole of the interface is superbly tailored for mobile use; it's clear that mobile search lies at the heart of Google's bold philosophy and plans for the future.
It ties in beautifully to the company's ever-expanding focus on local search, empowering small businesses by giving them an even greater opportunity to spread the word of their services through curated content.
Google Posts equally presents a brilliant opportunity to larger multi-location brands, allowing for the publication of bespoke content relating to each store locality.
If there's going to be an exciting event or a brilliant promotion running in your Leeds' store, for example, you'll be able to use Google Posts to advertise it specifically on the Leeds store's GMB page.
It's very new, and there's certainly scope for several of the interface's features to be improved, such as widening the list of available calls to action and broadening the reach of the Insights module, providing greater information for analysis.
Needless to say, Google Posts is an exciting direction for Google to be heading in, opening another channel for the creation and promotion of content, and one that brands would be wise to think about, too!