Google has announced new search algorithm updates in the past week, with key updates to its BERT algorithm, and improvements to spelling, indexing, subtopics and several other features now in place to build 'a more helpful Google'.
The new updates are all geared around gaining an even better understanding of a user's query and subsequently rank relevant results in return.
We've rounded up everything you need to know.
UPDATES TO BERT
The BERT algorithm has been updated to now apply to almost all queries, up from 10%. Google cites a deep investment into language research and, after last year introducing BERT language understanding systems, has revealed BERT is now used in 'nearly every' query in English.
This means BERT will now understand natural language and question queries even better.
What to consider: It's a big jump to go from 10% of queries to almost all queries! BERT is another algorithm that Google tells us we can't optimise for, and there's a lot of mystery around how it impacts results.
Fundamentally, this algorithm focuses on natural language and seeks to understand queries, suggesting that Google will become more receptive to content written in a conversational manner and be able to better answer questions.
BERT also deals with query ambiguity, words with multiple meanings and homonyms – writing within the full context of a topic should be beneficial for both text and voice search.
IMPROVED SPELLING
An improved spelling algorithm is now in place. This uses a deeper neural net to decipher misspellings, something which Google believes will see greater improvement to spelling than all of their improvements from over the last five years. Good news for the 10% of search queries misspelled each and every day!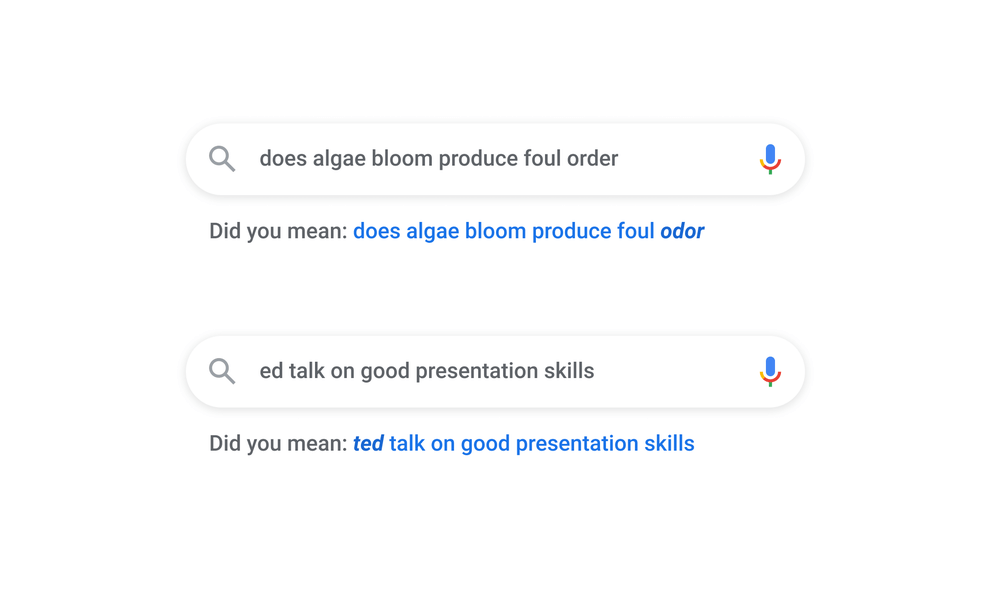 What to consider: Google says this is a better update to their spelling algorithm than all other updates in the last 5 years, and that it will improve their understanding of the context of misspellings. This might help surface sites for more misspelt queries, particularly around brand misspellings.
INDEXING PASSAGES
We are set to see a new ability to index "passages" from pages to improve results for detailed queries. This will involve a much better understanding of the relevancy of specific passages and will provide more accurate results for queries where the relevant answer might be confined to one paragraph deep within content.
This has been introduced to tackle the specific searches that Google often found the hardest to get right. This is set to be rolled out next month and will impact 7% queries. Find out more on this in Search Engine Land's recent post.
What to consider: The announcement of 'passage indexing' is already infamous within the SEO community due to the semantics around 'indexing'. Google has had to quickly announce that passages of text aren't being indexed independently of a wider page as implied, but that passage indexing is actually a ranking change.
It does mean that passages of text from a page of content can be surfaced in search results when hyper-relevant to a query, even if the wider page context isn't focused on that query or topic. It seeks to find needles in haystacks.
This could have an impact on CTRs of affected queries – if an obscure query is answered within the search result there is no reason to click through, but if the answer wouldn't have otherwise surfaced it at least raises awareness of the brand.
It also means that content producers can write in depth across many topics within one piece of content – there is less concern about being hyper-focused on one topic in the knowledge that individual passages can be ranked.
A BETTER UNDERSTANDING OF SUBTOPICS
We will begin to see a greater, more diverse range of content delivered when searching for broader topics. Google is applying neural nets to help understand subtopics around an interest. We should see this rolled out by the end of the year.
What to consider: This is a consumer focused update and it will be interesting to see its appearance in situ when rolled out. The focus is on suggestions around broader topics, so site owners should ensure that their content and categories incorporate relevant sub-categories to enhance the possibility of this content being surfaced.
If you found this update useful, check out our latest blog posts for the latest news, and if you're interested in finding out more about what we can do for your brand, get in touch with the team today.