Spring's here and busily getting underway: the buds are opening, the birds are singing. Undoubtedly, May will alight with thunder and June will snow us in, but for now everything seems perfectly peachy, particularly because March proved to be such a superb month in content, seeing a sequence of stellar campaigns spanning myriad channels and topics, online and off.
Join us in exploring five of last month's most vivid and stimulating campaigns. As with February's entry, we've contemplated the factors that made these ads so successful, identifying the key lessons that every brand can take from them to refine and enhance their own image in the future.
Twin Peaks returns with more cherry pie
Twin Peaks fans are salivating over mysterious pie billboards that suddenly popped up: https://t.co/02dzGY0UNJ pic.twitter.com/uroeDHHRGl

— Adweek (@Adweek) March 24, 2017
With Twin Peaks set to make its long-anticipated return to television in May, the show's promotion has taken in an idiosyncratically Twin Peaks turn.
Last month, billboards began cropping up across North America that displayed nothing but a picture of a single cherry pie. A favourite food of the Twin Peaks population, there was little doubt among the show's die-hard fans of what they were referring to!
That the campaign only makes sense to Twin Peaks fans seems like a risk, signifying a strategy that's fated to lose rather than gain a potential audience. However, the confidence and directness with which the ad targets the show's most committed fans is also its greatest strength.
People return to Twin Peaks because of its quirks and the way in which the show regularly and fearlessly gestures to narratorial obliqueness. It's a show that's situated as far away from 'normal' as television tends to get; marketing it as being anything otherwise, just another show to perch at the end of a Netflix queue, would fail to connect the fans who love Twin Peaks for its weirdness while missing out on an opportunity to create vivid content to get social channels abuzz!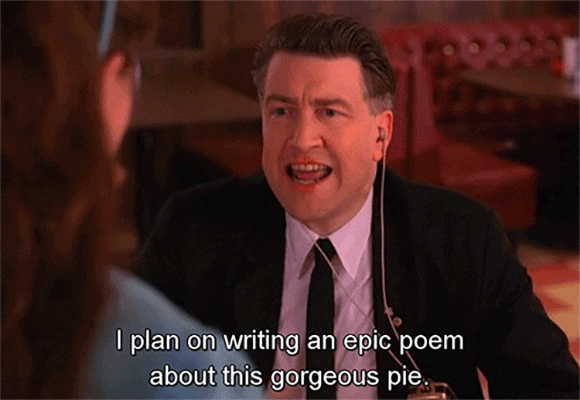 The campaign summarily made sweeping impressions across social media, alerting viewers to the fact of the show's return and reminded them of the quirkiness for which they loved Twin Peaks to begin with.
There's so much value in being mindful of the ways in which you're using your mediums. Could you be utilising your channels to get an even bigger slice of the cherry pie? Seek ways of expressing your brand in the recognisable terms and ideas that inspire your audience to keep returning to it.
Heinz adds Mad Men to the sauce
50 years later, and we still don't believe you should settle for fries without Heinz. #passtheheinz https://t.co/OpJNjMLwGM pic.twitter.com/FjfLS70xUZ

— Heinz Ketchup (@HeinzKetchup_US) March 14, 2017
As opposed to Twin Peaks' quirky promotional campaign for an equally quirky show, Heinz have incorporated AMC's series Mad Men into their latest campaign to bring a new yet vintage lease of life to their iconic tomato ketchup.
Mad Men follows the story of Don Draper, a fictional advertising exec working in the New York of the 1950s. One plot-line sees Draper actually pitching to Heinz; he proposes a thoroughly minimalist campaign that, to the puzzlement of the Heinz execs, omits the ketchup bottle entirely. Instead, Draper's concepts simply show photos of the foods that ketchup best accompanies, alongside the caption: 'Pass the Heinz.'
Mad Men's fictitious Heinz responded negatively to Draper's proposal, but the Heinz of the real world today have made a considerable, belated U-turn and are now running Draper's ads across the billboards of NYC!
AdWeek spoke to Nicole Kulwicki, Heinz's head of brand, who said: 'What we loved about the campaign is that it doesn't require paragraphs of copy to explain it. It features mouth-watering food images, and all that's missing is the Heinz.'
The campaign's a perfect example of a well-known brand maximising the potential of pop culture references to expand a brand's image, using Mad Men's artwork to transform Heinz from a household name into a brand with a desirable vintage, emblazoning it with the retro notes that Mad Men's stylistic flair and lush cinematography emanate.
Think about the potential of pop culture affiliation to shape your brand's image and consider the exciting and vivid openings to which life combining with art can lead.
Nike pumps the nostalgia to the Air Max
Sunday the 26th of March marked the thirtieth anniversary of the release of Nike's iconic Air Max 1. Like Twin Peaks shaping its promotion to reflect the aesthetic it's famous for, Nike celebrated the birthday in quintessentially Nike fashion, evoking the contemporary flair and edge by which the global brand continues to be epitomised, in a series of "fake ads" that they, ironically, commissioned.
This series of fake Nike ads holds up a mirror to society: https://t.co/YrO6DBOpJh pic.twitter.com/ERLlNk2L4R

— Dazed (@Dazed) March 25, 2017
Nike collaborated with artists Ava Nirui and Alex Lee to refashion and customise old-school Nike Air Max ads materials, mixing their artworks with Nike's classic branding.
Originally appearing in Dazed and now making waves across social media, Nike's innovative collaboration with Nirui and Lee makes a vibrant, stylish example of high-quality content generating correspondingly high-quality conversations.
BT Sport channels Neymar and enjoys sublime night in the Champions League
When Barcelona met Paris Saint-German in the Champions League round of 16 at Camp Nou, it wasn't really a matter of 'playing' a match; it was a rout, a masterclass in getting revenge, as Barça's battalion of superstars combined to constellate one of the Champions League's greatest ever performances.
BT Sport broadcasted the match on UK television and were able to get in on the action, running a dynamic a Twitter campaign that saw the brand's average interactions increase by a whopping 1,730%. Some golazo for the BT Sport social team!
HISTORY! @FCBarcelona complete one of the greatest comebacks ever! 🙌🙌🙌 #UCL https://t.co/09FxtkHpvy

— BT Sport Football (@btsportfootball) March 8, 2017
Rather than merely posting a timeline of the match's events, the relatively new but leading sport channel posted graphics like GIFs and delivered their content through engaging, creative copy.
We looked last month at the power of creative social posting, vis-à-vis the kooky Tweets that American restaurateurs Denny's continue serving up, and the same applies here. It's also a great example of keeping your content current and flowing and allowing your social channel the freedom to start conversations when opportunities for them arise!
Refuge goes viral with moving music video
Content that's done well is content that creates conversations. After all, the web's a pretty big animal and every piece of content's just another drop in the ocean. But the best content gets the ocean going, and when they combined with BRIT-nominated singer Frances to produce a music video for her song 'Grow', Refuge, the charity, achieved exactly that.
The video shows an animated woman walking through her daily life, returning at night to a starkly-coloured home, into which the camera never ventures. Only half visible, drawn as if a ghost, the figure becomes a moving, hard-hitting metaphor for the struggle people face for their struggles to be heard.
Eventually, after encountering someone who offers her a helping hand, the woman becomes fully visible; listened to and supported, she's able to come alive, as the video's pallet shifts to brighter tones, reifying a final sense of fulfillment and recovery.
Though Refuge only released the video on the 19th March, it's already reached over 150,000 YouTube views. Seeking to go viral to spread awareness of the support that the charity provides, the campaign is a moving and important example of the impact that well-made content can have!