Lockdown has changed the way we celebrate our seasonal holidays. From Christmas and New Year to birthdays and anniversaries, the rulebooks have been thrown up in the air this past year. And few more so than Valentine's Day. With restrictions on leisure, and more of us keeping a distance from our loved ones, this Valentine's Day provided us with another challenge in celebrating this day of love as we normally do.
But perhaps this made us reflect on the meaning of love and its importance. This gave brands across the world the the chance to reflect on their strategies and discover what matters the most to their customers in times like these.
The result was a real variety of 'out of the box' Valentine's marketing campaigns, from donation-drive campaigns to those appealing to nature lovers.
Let's take a look at our top 5 favourite Valentine's Day campaigns of 2021…
NHS
There's not an ounce of doubt that the NHS staff deserved a huge chunk of the love this Valentine's Day. The support they've shown during the pandemic has shown us the true definition of sacrifice and selflessness.
From the NHS, we saw the launch of a charity campaign that encouraged people to ditch flowers and gifts this Valentine's Day in favour of donations to support the NHS staff who have made the many sacrifices throughout the pandemic to get us this far.
Pandora
Pandora conducted a survey across countries that have a big Valentine's Day celebration, such as the UK, USA, Australia, China, Germany and Mexico, to ask them how their perception of love and relationships has changed since the pandemic.
The results revealed that people are prioritising relationships and appreciating their loved ones a lot more and really valuing the time spent together compared to before the pandemic as they now understand what it feels like to stay away from people they love.
The campaign was topped off with a short film asking real couples what Valentine's Day means to them.
Clover
Clover's 'Spread the Real Love' campaign encouraged parents to break free from the social pressure of being perfect and instead embrace the imperfections that come with parenthood as it is not an easy job.
The side-effects of social media, where we frequently see aspirational yet unrealistic portrayals of other people's lives, often results in many of us feeling disheartened about our own setup, with many of us under constant pressure to portray that same perfect life.
Here, Clover sought counter this, instead shining a light on the everyday family by sharing real home scenarios that we can all familiarise with.
World Wildlife Fund (WWF)
We can't hide from the fact that 2020 has been a disastrous year for our planet, from Amazon Rainforest fires and Australian bushfires to California wildfires. However, we can use 2021 to show love to our mother nature and appreciate it before it's too late.
This Valentine's Day, WWF decided to raise awareness of our natural surroundings and how important it is for us to love them. The 'Love it or lose it' campaign appeals to all nature lovers by showcasing the relationship we have with nature and warn us of what we can lose if we don't take better care of our planet.
Hotels.com
The holiday booking brand's 'V-Day Dumpster Stay' campaign was a considered theme for singles who were feeling a little lonely this Valentine's Day. It encouraged people to write about why their ex deserved a vacation in a dumpster, with the chance to win a $300 gift card redeemable against a holiday.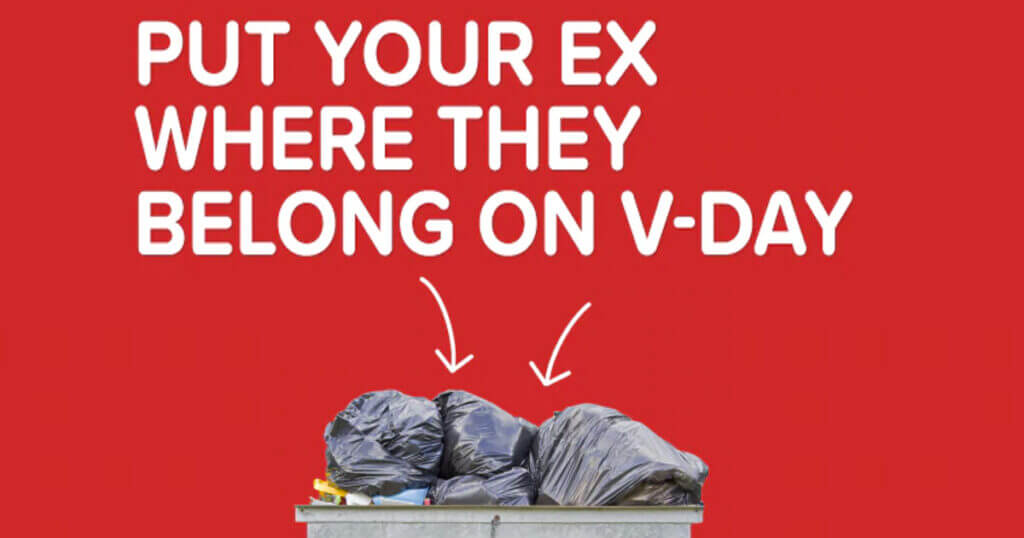 To make the campaign even more fun, all entries received a booking confirmation email for their ex's imaginary Dumpster Stay.
So, there's our favourite Valentine's Day campaigns of 2021. As you can see, we saw a real range of messages and sentiments behind these campaigns, showing you can define love however you want. It's important to express your brand's voice on days like Valentine's Day to better connect with your customers and find out what it is that's important to them. 
Get in touch with our expert team for more information on how you can voice your own brand.