Join Fusion's technical SEO team as we round up last month's major industry updates.
Neeva clarifies their privacy policy
Last month we reported that a former Google's advertising Executive was set to launch a new search engine with a focus on privacy, while remaining ad-free.
It's privacy policy was examined by Ars Technica, leading to it being changed to fall in line with the company's mission statements, whilst also providing more clarification on the 90-day data retention policy which now features some exceptions.
We have also received a message from Neeva suggesting that people located in the US will get access to the new search engine first. We're excited to see a new player enter the market!
Schema 9 is released
Towards the end of June, the Google team working on Schema.org (but also used by Microsoft, Pinterest, and Yandex) announced that a new version has been released.
Amongst other features, it now has added ability to organise products into groups that vary by size (e.g. 2 metre HDMI cable, 3 metre HDMI cable). A distinction has also be made to clarify the difference between product collections, which have been defined as 'products that are commonly bundled together' (e.g. an offer).
Other changes include the addition of a LearningResource as CreativeWorks, which would be appropriate for materials with an 'orientation towards learning, education, skill acquisition, and other educational purposes'.
Google offers paid My Business profiles upgrade
Some users in the US have received promotional emails offering an option to upgrade their profiles for a Google Guaranteed badge in the local results.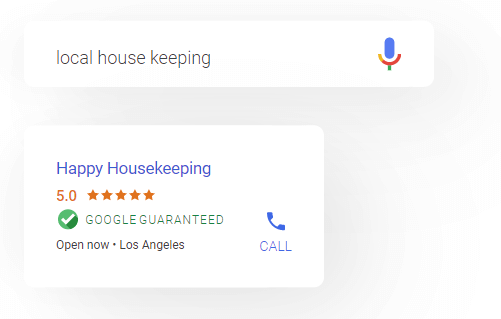 This upgrade will cost £40 p/m and now offers a consumer protection programme which has now only been offered to Google Ads customers. It's presumed that the fee may cover any claims that are typically covered by advertising feeds via Google Ads.
The change marks a shift in how businesses can de facto pay for improved visibility in local results. On the other hand, the use of the service might improve conversions giving potential consumers confidence and peace of mind in a service backed up by Google.
Chrome support for native iframe lazy-loading
Google previously announced that Chrome will support native lazy-loading for images, meaning the time has now come for iframes.
This will defer the loading of iframes which have not yet come into the viewport (are offscreen), until the visitor scrolls near them. This means that social media embedded content, YouTube videos, maps, and other resources will now only load when they might become useful for the visitor.
We're expecting this to save the amount of data transferred, speed up the loading of other elements of a page, and reduce memory usage.
This can be enabled by using the loading attribute with a lazy value, which will signal to the browser to defer the loading of off-screen content.
Most modern desktop browsers support (or can support) this feature when enabled. On mobile, this is currently only available on the Android browser, Chrome for Android and Samsung Internet.
Applebot documentation updated with ranking factors
Applebot, Apple's web crawlers used primarily for Siri and Spotlight recommendations, has seen an update to it's documentation.
Interesting points include:
When not referred to specifically, Applebot will now follow Googlebot's robots.txt restrictions
Site content might be rendered, which includes JS and CSS
Meta robots directives will be followed
Apple has also shared some general factors which might be used, including:
user engagement with search results
volume and quality of links
page design characteristics and content relevancy
approximate user location
If you found this update useful, check out our latest blog posts for the latest news, and if you're interested in finding out more about what we can do for your brand, get in touch with the team today.