Join Fusion's SEO team as they round up last month's major industry updates
GOOGLE'S NEW ALGORITHM UPDATE FOCUSES ON FINDING FRESH CONTENT
At the start of the month, Google's Vice President of Search, Pandu Nayak, released a blog detailing the focuses of a Google algorithm update that was released in February 2019.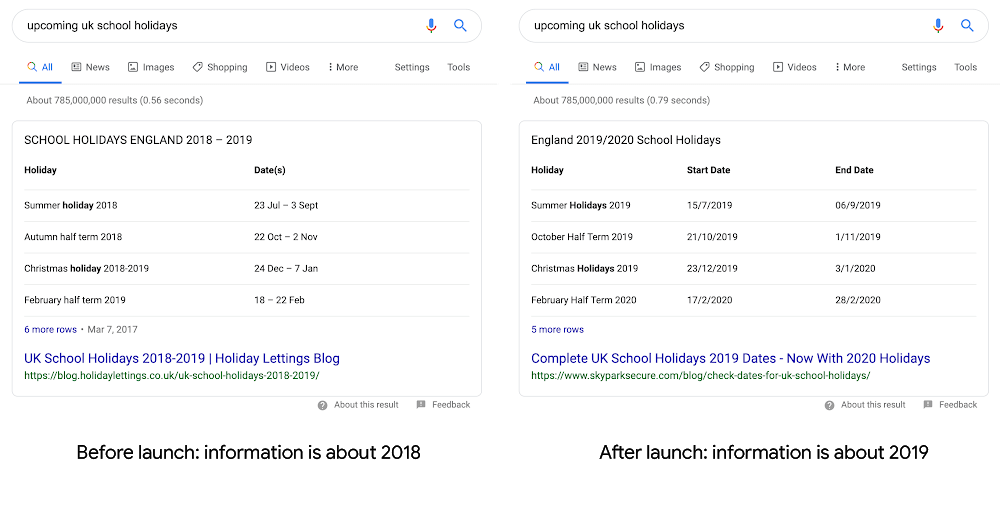 As shown above, the main focus of this update is to ensure that featured snippets contain fresh, helpful information.
Although the outcome of this update is very positive for data accuracy within many featured snippets, this also means that we will expect to see much more movement with information that is featured within these snippets with Google prioritising fresher content.
GOOGLE EXPERIENCED FURTHER INDEXING ISSUES
Early this month, Google experienced some issues that meant newly published pages where prevented from being indexed.
We're aware of reports of indexing issues that are impacting some sites beginning earlier today. We'll provide another update when we have more information to share.

— Google Webmasters (@googlewmc) August 8, 2019
The indexing issues are similar to the ones that took place in May 2019, in which users saw a delay in some pages performances that were published during these issues, due to these being indexed late. This mostly affected news publications, as articles didn't make it onto Google search, news or discover whilst issues persisted.
Along with this issue, Google also experienced issues with the URL inspection tool within Google Search Console. These issues have since been resolved.
GOOGLE UPDATE TESTING TOOLS ALLOW GOOGLEBOT EVERGREEN RENDERING
Google announced that most of their testing tools now support the evergreen Chromium renderer. This is has now been implemented within the following tools:
This update will allow these tools to render JavaScript and will continue to update along with Chromium.

In the above image, we can see that within the mobile testing tool, this is now able to render ES6+, Web Components and 1,000+ new web platform features.
PLAYABLE PODCASTS ARE NOW AVAILABLE IN GOOGLE SEARCH
During the Google I/O event in May 2019, Google released the news that podcasts are now available in Google search (more information on this in our May 2019 blog). This month, Google have announced that podcasts will now be playable within desktop and mobile search results.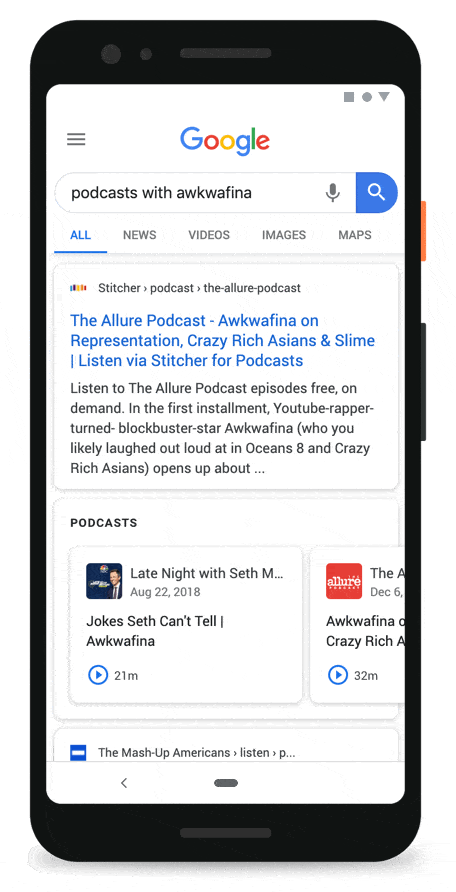 Google have also implemented a "podcast series" table within the result page which holds many of the top podcast series relating to the search query.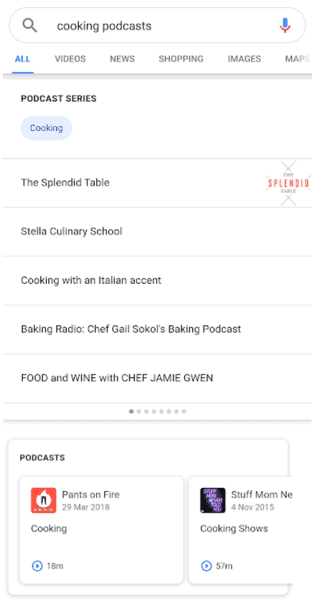 LESS THAN HALF OF GOOGLE SEARCHES RESULT IN A CLICK
SparkToro released a study on how people interact with Google search results in 2019. This study found that June 2019 was the first month to see zero click searches accounted for 50.33% of 40 million+ searches within the United States, this is the first time that zero click searches have surpassed 50%.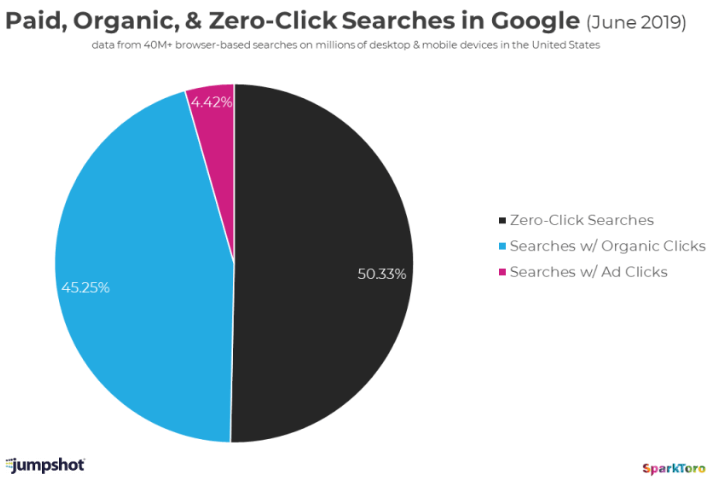 The study also shows how zero click searches have seen a gradual increase since 2016.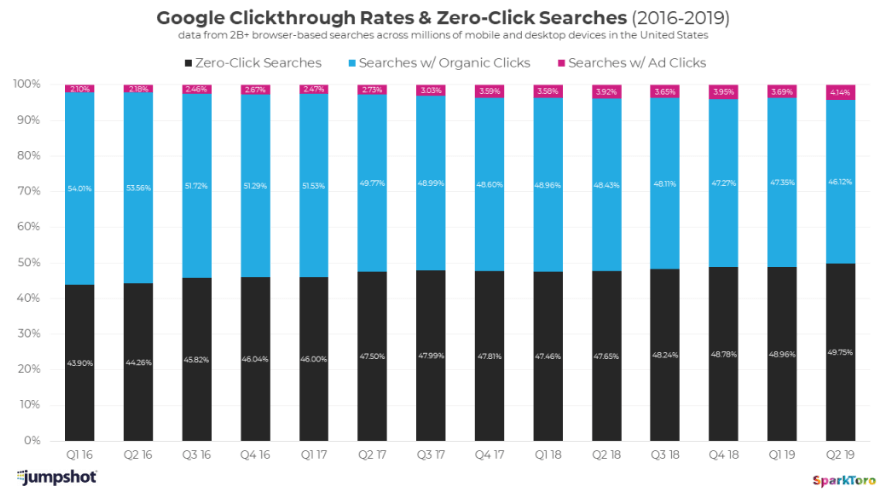 The increase in zero click searches is due to the increase in featured snippets within Google search results providing information relevant enough for users to never feel the need to enter a website.
Although an increase in zero click searches means a drop in all website traffic for Google search channels, such as Organic and Paid, due to most zero click searches being more informational, this increase will affect top of the funnel traffic much more than any traffic further down the funnel for businesses.
GOOGLE SPOTTED HIGHLIGHTING TEXT ON SITES
Users have spotted Google highlighting text on a website after clicking through to the site from a featured snippet.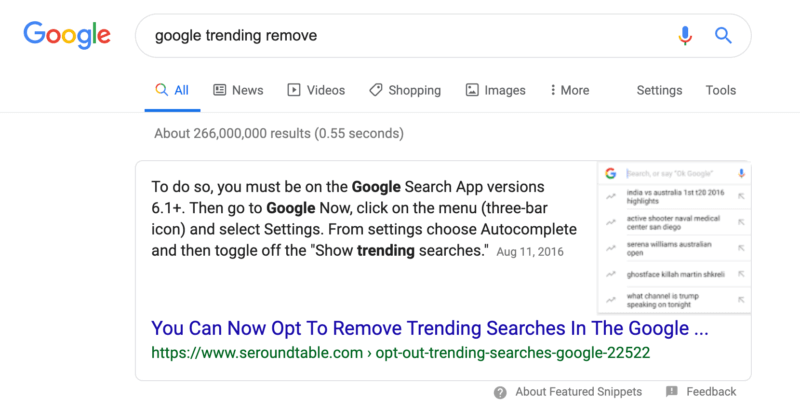 The text that is highlighted is dependent on the text that is displayed within the snippet. The page will also automatically scroll to the highlighted text.