Join Fusion's SEO team as they round up last month's major industry updates.
Google Co-Founders Larry Page and Sergey Brin Step Down
Larry Page and Sergey Brin, co-founders of Google, announced that they have stepped down as CEO and President of Alphabet, the parent company of Google. The role of CEO was given to Sundar Pichai, Google's current CEO. Sundar sent the following email to Google employees on 3rd December
Hi everyone,

When I was visiting Googlers in Tokyo a few weeks ago I talked about how Google has changed over the years. In fact, in my 15+ years with Google, the only constant I've seen is change. This process of continuous evolution — which the founders often refer to as "uncomfortably exciting" — is part of who we are. That statement will feel particularly true today as you read the news Larry and Sergey have just posted to our blog.

The key message Larry and Sergey shared is this:

While it has been a tremendous privilege to be deeply involved in the day-to-day management of the company for so long, we believe it's time to assume the role of proud parents—offering advice and love, but not daily nagging!

With Alphabet now well-established, and Google and the Other Bets operating effectively as independent companies, it's the natural time to simplify our management structure. We've never been ones to hold on to management roles when we think there's a better way to run the company. And Alphabet and Google no longer need two CEOs and a President. Going forward, Sundar will be the CEO of both Google and Alphabet. He will be the executive responsible and accountable for leading Google, and managing Alphabet's investment in our portfolio of Other Bets. We are deeply committed to Google and Alphabet for the long term, and will remain actively involved as Board members, shareholders and co-founders. In addition, we plan to continue talking with Sundar regularly, especially on topics we're passionate about!

I first met Larry and Sergey back in 2004 and have been benefiting from their guidance and insights ever since. The good news is I'll continue to work with them — although in different roles for them and me. They'll still be around to advise as board members and co-founders.

I want to be clear that this transition won't affect the Alphabet structure or the work we do day to day. I will continue to be very focused on Google and the deep work we're doing to push the boundaries of computing and build a more helpful Google for everyone. At the same time, I'm excited about Alphabet and its long term focus on tackling big challenges through technology.

The founders have given all of us an incredible chance to have an impact on the world. Thanks to them, we have a timeless mission, enduring values, and a culture of collaboration and exploration that makes it exciting to come to work every day. It's a strong foundation on which we will continue to build. Can't wait to see where we go next and look forward to continuing the journey with all of you.

– Sundar
Both Larry Page and Sergey Brin will remain active as co-founders, shareholders and board members of Alphabet.
Google Roll Out BERT for 70+ Languages Worldwide
After its initial release in October 2019, which was covered in our blog, Google have announced that their new natural language processing (NLP) algorithm, BERT, is being rolled out for 70+ languages.
BERT, our new way for Google Search to better understand language, is now rolling out to over 70 languages worldwide. It initially launched in Oct. for US English. You can read more about BERT below & a full list of languages is in this thread…. https://t.co/NuKVdg6HYM

— Google SearchLiaison (@searchliaison) December 9, 2019
This is the full list of languages that will BERT will now understand:
Afrikaans
Albanian
Amharic
Arabic
Armenian
Azeri
Basque
Belarusian
Bulgarian
Catalan
Chinese (Simplified & Taiwan)
Croatian
Czech
Danish
Dutch
English
Estonian
Farsi
Finnish
French
Galician
Georgian
German
Greek
Gujarati
Hebrew
Hindi
Hungarian
Icelandic
Indonesian
Italian
Japanese
Javanese
Kannada
Kazakh
Khmer
Korean
Kurdish
Kyrgyz
Lao
Latvian
Lithuanian
Macedonian Malay (Brunei Darussalam & Malaysia)
Malayalam
Maltese
Marathi
Mongolian
Nepali
Norwegian
Polish
Portuguese
Punjabi
Romanian
Russian
Serbian
Sinhalese
Slovak
Slovenian
Spanish
Swahili
Swedish
Tagalog
Tajik
Tamil
Telugu
Thai
Turkish
Ukrainian
Urdu
Uzbek
Vietnamese
Google Update Their Search Quality Guidelines
Google were discovered to have updated their search quality guidelines at the start of December. These guidelines are used by human quality raters to evaluate websites and search page results and are used to help improve Google's search algorithm.
These updates are important and provide the ability to see how Google think in regards to how sites and content should be viewed. This allows us to better understand how to present content and ensure guidelines are adhered to, such as E-A-T.
Within the updates provided in December, Google have been changing the word "user" to "person" and have also informed that raters should "Keep in mind that users are people from all over the world: people of all ages, genders, races, religions, political affiliations, etc". These updates may be a result of Republicans' allegations of anti-conservative bias within the company's search results in the U.S., in which Google have denied such biases.
Google Chrome 79 Has Been Released
Google released the Chrome 79 on 10th December. In our previous blog post, we informed that Google will be cracking down on mixed content, starting from version 79 of Google Chrome, to version 81. This means that this is the first version of Google Chrome that will take steps towards warning users about mixed content of sites.
Google's steps towards cracking down on mixed content will be as follows:
In Chrome 79, releasing to a stable channel in December 2019, Google will introduce a new setting to unblock mixed content on specific sites. This setting will apply to mixed scripts, iframes, and other types of content that Chrome currently blocks by default. Users can toggle this setting by clicking the lock icon on any https:// page and clicking Site Settings. This will replace the shield icon that shows up at the right side of the omnibox for unblocking mixed content in previous versions of desktop Chrome.
In Chrome 80, mixed audio and video resources will be auto-upgraded to https://, and Chrome will block them by default if they fail to load over https://. Chrome 80 will be released to early release channels in January 2020. Users can unblock affected audio and video resources with the setting described above.
Also in Chrome 80, mixed images will still be allowed to load, but they will cause Chrome to show a "Not Secure" chip in the omnibox. We anticipate that this is a clearer security UI for users and that it will motivate websites to migrate their images to HTTPS. Developers can use the upgrade-insecure-requests or block-all-mixed-content Content Security Policy directives to avoid this warning.
In Chrome 81, mixed images will be auto-upgraded to https://, and Chrome will block them by default if they fail to load over https://. Chrome 81 will be released to early release channels in February 2020.
For more information on these updates, please visit our dedicated blog post.
Windows Implements Bing Visual Search In The Window Search Bar
Bing's visual search works in a similar way to Google Lens, both will allow users to use search with an image, or a selected part of an image and also include text recognition within images, which can also be users to search.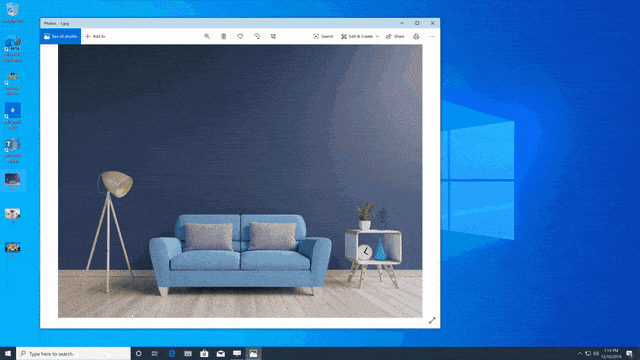 Windows users will now have access to usilise Bing visual search from the start menu. This feature is currently only available for U.S. users and will be shortly rolled out to international markets. With windows still controlling around 78% of worldwide desktop operating systems, this new feature may have a positive impact on Bing's market share for search engines, depending on the success of the implementation.
Google Warn That Some Data In Google Search Console Is Not Accurate
Google have warned that, due to internal issues, data in the performance report for Discover will be inaccurate between 8th December and 13th December. This issue has since been fixed.
Check out our latest Social Media market updates for the latest news, and if you're interested in finding out more about what we can do for your brand, get in touch with us today.