Join Fusion's SEO team as they round up last month's major industry updates.
GOOGLE ROLLS OUT HTTP "NOT SECURE" UPDATE
On 24th July, Google confirmed via the Chrome Developers twitter account and Google blog post that any site not encrypted with HTTPS will be marked as "not secure".
https://twitter.com/ChromiumDev/status/1021806746283651072
Google initially started to crack down on unencrypted sites in 2015 by prioritising HTTPS pages within the SERPs, which soon escalated into adding the "not secure" marker to any unencrypted password fields. This increasing implementation of warnings has now resulted in any unencrypted site receiving the "not secure" marker starting in the latest version on Chrome (68).
Google's efforts to create a safer browsing experience for users have been extremely successful so far, with roughly 83% of the top 100 sites on the web now using HTTPS, up from 37% just two years prior.
The next step in Google's campaign will come in October 2018, with plans to implement a red "not" secure warning when users enter data on any unencrypted page, which will be accompanied by the removal of the "secure" tag from HTTPS pages.
GOOGLE'S NEW SCHEMA MARKUP
In July Google announced support for the Speakable Schema.org property which can be used to identify sections within a webpage that are suited best for text-to-speech. This schema is currently in beta and is limited to valid news sites, and is also only available on Google Home devices for English speakers with the U.S.
The content guidelines from Google recommend that data is structured in the following ways when writing content for Speakable:
Content should have concise headlines and summaries that provide users with useful information.
If the top of the story is included within the Speakable structured data, it is recommended that the information is broken up into individual sentences to allow to content to read clearly in text-to-speech.
For optimal user experience, it is recommended to provide 20-30 seconds of content per section of Speakable structured data.
Although currently limited to valid news sites it's expected that the mark-up will become available for all sites in the near future, allowing businesses to ensure that their site is primed for the increasing use of voice search.
GOOGLE'S SEARCH QUALITY RATING GUIDELINES UPDATE
Google released an updated edition of the search quality rating guidelines on 20th July. The extensive, 164 page PDF document provides a full guide for Google's 10,000+ quality raters worldwide to adhere to.These raters evaluate and rate the quality of pages that appear in the top results on SERPs for lists of searches they are contracted to perform.
In this update of the search quality guidelines Google place more focus on the importance of the "beneficial purpose" of webpages, with a particular emphasis on flagging clickbait, fake news, conspiracy theories and pages which spread hate as low quality. Google has also placed a new focus on the authors of content, with quality raters required to research, evaluate and factor in the reputation of authors when rating a website or webpage.
GOOGLE'S BROAD CORE UPDATE
On August 1st Google released a new update to their broad core algorithm. Unlike Google's "focused updates", which are daily changes designed to focus on specific objectives like site speed or security, the broad core update is a more general widespread change to the algorithm, and is confirmed to be rolling out globally.
This week we released a broad core algorithm update, as we do several times per year. Our guidance about such updates remains the same as in March, as we covered here: https://t.co/uPlEdSLHoX

— Google SearchLiaison (@searchliaison) August 1, 2018
On Twitter, Google's Danny Sullivan provided some clarification on the purpose of the update but ultimately confirmed that from an SEO perspective, there is no specific 'fix' for any traffic fluctuations this may cause.
We tell lots of things to do. Improve site speed. Consider secure. Etc. But that's not what this update was about. It's broad. And respectfully, I think telling people there's no particular thing to "fix" is indeed helpful. It means, hopefully, they think more broadly…

— Danny Sullivan (@dannysullivan) August 1, 2018
Instead, Google has continued to place emphasis on the importance of "high quality content", suggesting that SEOs take a "broad" approach to improvement that considers factors laid out within the official search quality rater guidelines.
Google states that it will continue to release core algorithm updates several times a year, to further tailor the SERPs towards their ideology of sites that provide the best user experience based on the request of the user.
NEW DATASET SCHEMA
On 31st July, Google released a blog post announcing its support for the dataset schema, making it possible for websites to display charts, tables or data directly within search results.
Within the blog, Google informed that "news organisations that publish data in the form of tables can add additional structured data to make the dataset parts of the page easier to identify for use in relevant search features".
The below is an example from Google of what the dataset schema looks like: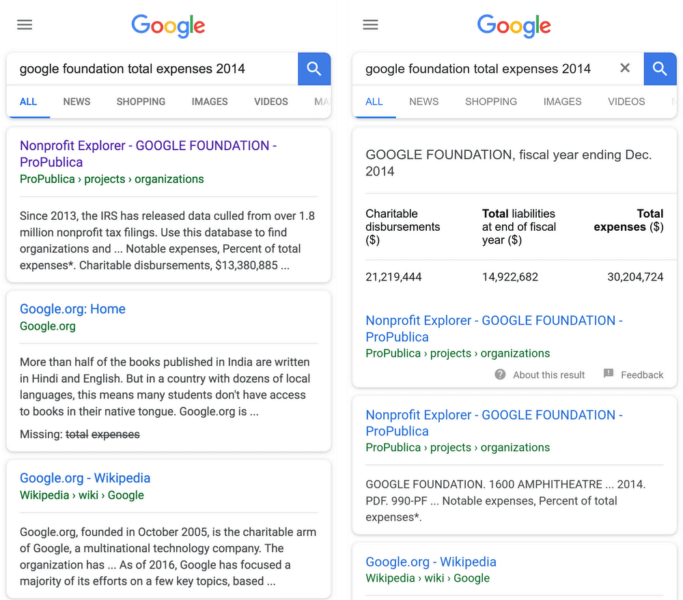 Google explain that the purpose of this mark-up is to improve discovery of datasets from fields such as life sciences, social sciences, machine learning, civic and government data and more. Google states that the below site features can qualify as a dataset:
A table or a CSV file with some data
An organized collection of tables
A file in a proprietary format that contains data
A collection of files that together constitute some meaningful dataset
A structured object with data in some other format that you might want to load into a special tool for processing
Images capturing data
Files relating to machine learning, such as trained parameters or neural network structure definitions
Anything that looks like a dataset to you
GOOGLE'S MOBILE PAGE SPEED UPDATE
Following the initial announcement of 17th January 2018, Google confirmed via the Google Webmasters twitter account on 9th July that the page speed update was being rolled out.
https://twitter.com/googlewmc/status/1016276644321996800
Google states the update will only impact mobile rankings on what it considers to be a small percentage of the slowest websites on the internet.
Page speed has been an important optimisation factor within Google's search results on desktop for years, with conclusive evidence from studies conducted by Google confirming that users find page speed as important on mobile. Alongside the move to mobile first indexing, the update reflects Google's continuing focus on maximising user experience for mobile searchers.
GOOGLE UPDATE HREFLANG USAGE DOCUMENT
In early July Aleyda Solis, founder of Search Engine Land, discovered that Google had quietly updated their official documentation on hreflang usage to expand on existing guidelines and resources.
https://twitter.com/aleyda/status/1014993990125572096?ref_src=twsrc%5Etfw%7Ctwcamp%5Etweetembed%7Ctwterm%5E1014993990125572096&ref_url=https%3A%2F%2Fwww.seroundtable.com%2Fgoogle-updates-hreflang-official-documentation-26006.html
If a site has multiple versions of a page for different languages or regions, using hreflang code will help Google point users to the most appropriate version of the page by language or region.
In the new documentation, Google recommends indicating alternate pages for the following scenarios:
When keeping the main content in a single language and translating only the template, such as the navigation and footer. Pages that feature user-generated content, like forums, typically do this.
If content has small regional variations with similar content, in a single language. For example, a site might have English-language content targeted to the US, GB, and Ireland.
If a site is fully translated into multiple languages. For example, both German and English versions of each page may exist.