Join Fusion's SEO technical team as we round up last month's major industry updates.
Google rolls out May 2020 Core Algorithm Update
Google confirmed via a Twitter post that an update of the core algorithm has been implemented and was rolled out from May 4th.
It has also been announced that it will take from one to two weeks to affect search results, which means that by the time you are reading this post it should be fully rolled out.
This is the second update to the core algorythm announced just this year, which tells us Google is not planning to pause updates during the ongoing coronavirus pandemic.
No specific guidance relating to the update has been issued, in order to improve sites which might have been adversely affected. Google have pointed webmasters to their Content and Quality Questions list, which they suggest you should use when creating site content.
Core Web Vitals to become a ranking signal
Google announced that, towards the end of May, a range of new metrics will become signals taken into account when rankings sites in the search results.

These metrics are to become parts of a larger group of Page Experience signals, which will include Core Web Viral, as well as:
Mobile-friendliness
Safe browsing
Client-server connection security
Compliance with interstitial guidelines
We recently published a more detailed blog post around this, specifically focused on Core Web Virals.
WordPress to include better XML Sitemap geration and submission
WordPress, which now powers around 35% of the web (including this site), is likely to include native sitemap support in version 5.5.
The update comes as an engineer working for WordPress and Google commented on the progress of the development of a core plugin.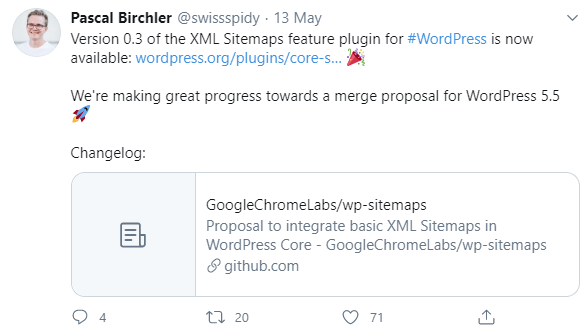 On the other hand, the proposal only focuses on the XML Sitemap minimum requirements which would cover most WordPress content types, and are not planned to include extended features such as:
Image, Video, and News sitemaps
UI-controls which would allow for post exclusion from the sitemap
Sitemap caching mechanisms
Google My Business listings can link to Gift Cards and Donation pages
The local business listings offered by Google can now be, in many cases, enhanced by the addition of new features, which now allows people to offer support in the context of the coronavirus pandemic. These links became available in the search results towards the end of May.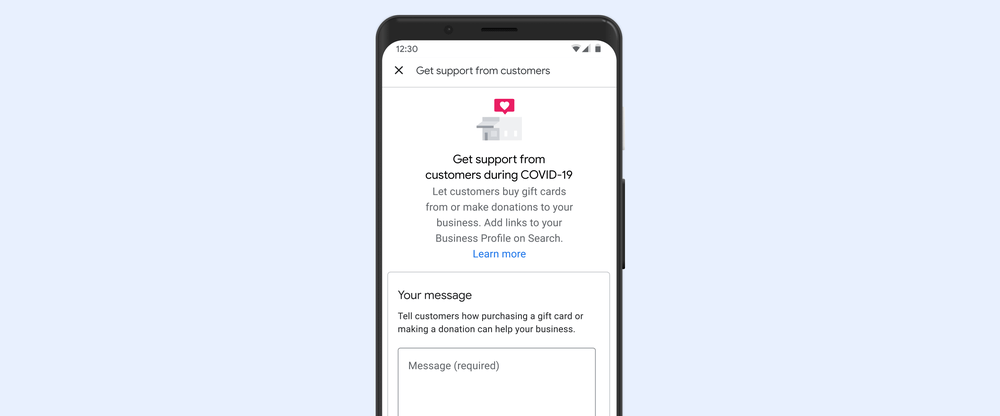 It has been announced that a "subset of businesses" in English-speaking countries will be eligible for these new features, possibly in an attempt to roll this out gradually and prevent congestion. These businesses must have been verified prior to March 1st, 2020 and also have a physical storefront.
Third party gift card offerings are also to be made available via a number partners including Square, Toast, Clover, and Vagaro; and donation pages can be hosted by PayPal or GoFundMe.
Google has also shared some tips on how to take advantage of these features in the best way, including crafting a personal message, which is brief, possitive, and specific.
Google Podcast Manager launches to aid podcasters a better way to understand metrics
Google has a long and somewhat complicated history with podcasting. Over 7 years ago, Google Listen was launched as an Android application that let you search, subscribe, download, and stream podcasts and web audio. It was about 3 years old before it was retired.
Similarly, Google Reader, a RSS/Atom feed aggregator, which could be used for podcast feed, was retired at a similar time.
The retired application and service was then later replaced by Google Podcasts in 2018.

With the growth of the podcasting market and an appetite for this type of media consumption, Google has launched a tool that is useful for podcast publishers to help them gain insight into their audience and even grow it. This is most likely to be linked to metrics gathered via Google Podcasts, similarly to YouTube Insights.
Some of the presented features included audience retention metrics and device breakdown.
Check out our latest blog posts for the latest news, and if you're interested in finding out more about what we can do for your brand, get in touch with us today.