Join Fusion's SEO team as they round up last month's major industry updates.
GOOGLE SEARCH CONSOLE ADDS NEW INSIGHTS TO SERPS
Many SEOs, including ourselves, started noticing at the start of October that Google was now providing us with a glimpse into our Google Search Console data when searching for a keyword.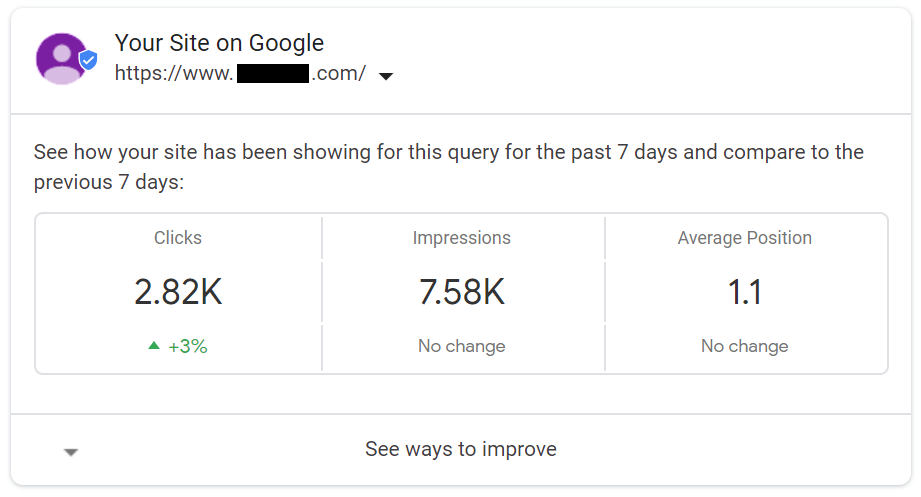 This window will only appear if you are logged into Google Search Console and have a property that ranks for the keyword. If multiple properties rank for the same keyword, a drop-down menu will become available to allow users to switch between properties. There is also an option to 'see ways to improve' a keywords ranking, although, the same two suggestions will appear for every keyword:
Compare this query to your overall data
Find out how to use this information to make changes to your site so that you can increase your chances to show up for the queries that you care about.
IS DYNAMIC RENDERING GOOGLE'S SOLUTION TO READING JAVASCRIPT?
As an answer to search engines difficulty with reading JavaScript, Google believes that dynamic rendering could be the answer for some sites, and released a guide on how to implement this.
Although Google confirms that dynamic rendering is not the full answer to this problem, they recommend this as a workaround solution for public JavaScript-generated content that changes rapidly, or JavaScript that uses features not currently supported by crawlers:

Dynamic rendering will allow sites to deliver a static HTML to a crawler, so they can index the page's information, while still displaying a JavaScript-heavy page to users, in order for them to experience the page as intended.
GOOGLE'S OCTOBER ALGORITHM REVIEW
Although we saw unstable fluctuations in average rankings, one of Google's daily algorithm updates saw a much larger spike in fluctuations than on any other day. On 17th October the fluctuations had an impact across all industries according to SEO tracker tools. The only industries which seem to have been affected the least are sports, news and art & entertainment. The law & government, jobs & education and finance categories were affected the most, with other categories not far behind.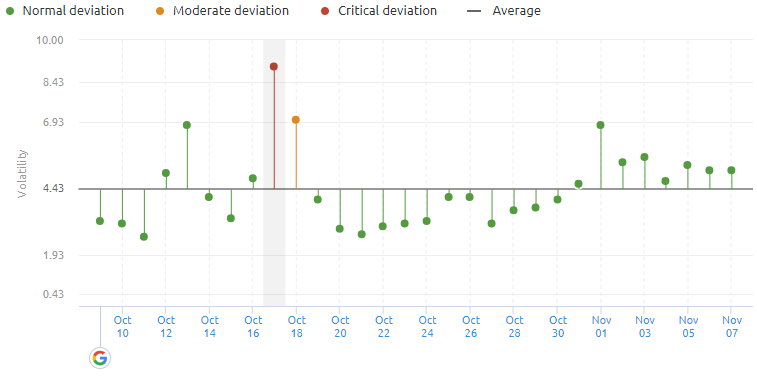 Google have said that their algorithm is constantly refreshing and that due to the large amount of updates that take place, they are unable to provide information on what changes have been made each day. As Google have not released a statement on what caused these fluctuations, we are unable to see the cause of this. Daily fluctuations were seen across October and we will possibly see this throughout December too.
GOOGLE SHUTS DOWN GOOGLE+
Google announced on 8th October that they will be closing Google+ over a 10 month period to give users full opportunity to transition, with an aim to close the site by the end of August 2019.
Released in 2011, Google+ was Google's answer to social media, after dominating the search engine market in the early 2000's, taking over the online video industry in 2006, and surpassing Internet Explorer as the top web browser in 2012.
However, poor uptake by users has led Google to pull the plug on Plus. And so social won't be an area that Google will compete in.
GOOGLE MY BUSINESS ANNOUNCES NEW PRODUCTS FEATURE
Spotted by an SEO and posted on Twitter, Google has released a product collection and product menu on selected Google My Business accounts. This feature replaces the services menu and will allow users to add a product collection, along with products within the collection.
Been playing with new GMB beta feature, Products (Beta) Looks to be replacement for Services menu located in Info tab. Set up collections with products in each collection. I am putting service items in as well. Any additional info here @mblumenthal ? pic.twitter.com/1UKyVXKfkb

— Nathan Schoell (@NateSchoell) October 18, 2018
Google is yet to release any documentation providing more information on this feature or when it will be released from beta.
GOOGLE MY BUSINESS RELEASES NEW MIGRATION TOOL & BRANDED INSIGHTS
Announced on 22nd October via Twitter, Google's new migration tool will allow users with organisation accounts to easily migrate locations from a personal account into the organisation account.
Users have the option to remove the transferred locations from the personal account or keep the locations on both the personal and organisation account, Google recommends that locations are removed from the personal account and the personal account is added to the organisation account in order for the account the view the properties for the best experience. Other information on the organisation account migration tool includes:
Locations from several personal accounts can be added to the organisation account.
Users who opt to keep locations available on both the personal and organisation accounts, when a property is added on the personal account, this will not also be added to the organisation account.
Location transfer requests will only work for transferring locations from a personal to an organisation account, users will not be able to transfer locations between organisation accounts.
Google has also implemented the ability to see branded searches within the Google My Business insights. Branded searches will be classed differently to direct searches (a customer directly searching for the business' name) and will display within the chart of the dashboard.
GOOGLE MAPS ALLOWS USERS TO CONNECT WITH BUSINESSES BY FOLLOWING THEM
Google announced on the 24th October via their blog, 'The Keyword', that users will be able to follow businesses within the Google Maps app in order to receive updates which will be displayed within a 'For You' tab in the app.
Businesses that are not yet open will also be able to connect with users before their open date. The business' profile can be visible to users up to three months in advance of opening. This can be used to tease the opening date, make users aware of any opening events or keep people updated on the types of products or services soon to be provided.
NEW BOOK AND SCHEDULE BUTTONS INTRODUCED TO LOCAL GOOGLE RESULTS
Google has expanded on giving mobile users access to call a company from the local pack listings and has implemented 'book' and 'schedule' buttons which allow users to book or schedule a service within the 'Reserve with Google' platform.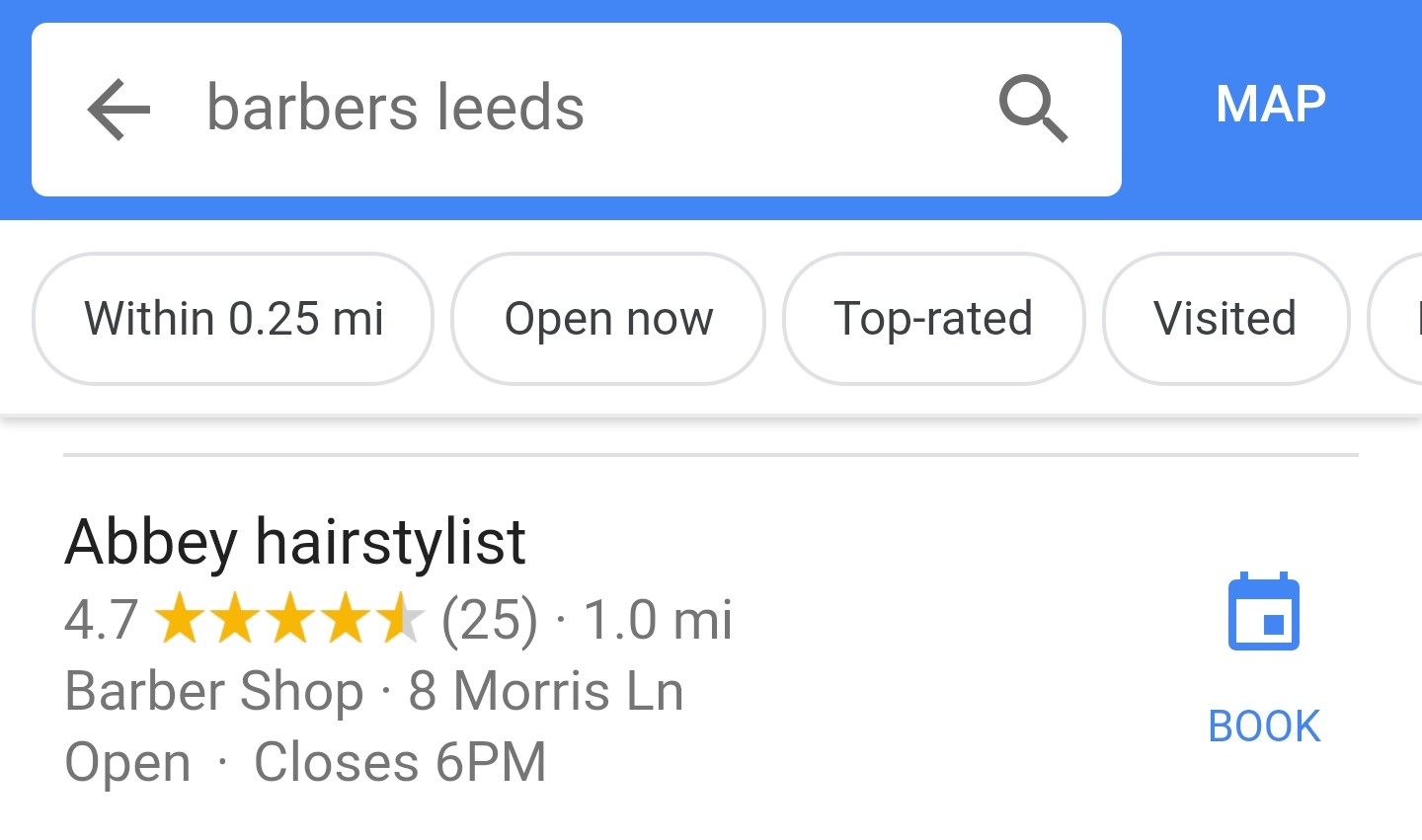 Google has a full list of booking software companies that work with 'Reserve with Google' along with a list of companies they will soon be working with.
PUBLIC TESTING STARTS FOR GOOGLE ASSISTANT'S DUPLEX TECHNOLOGY
After Google's incredible unveiling of Google Duplex, a new artificial intelligence to be implemented within Google Assistant that can converse with businesses on behalf of the user in order to accomplish tasks such as book a table at a restaurant or make an appointment at a hairdressers, Google has released a blog post confirming that they will begin public testing for Google Pixel users at restaurants within New York, Atlanta, Phoenix and the San Francisco Bay Area.
We're more than intrigued to see how this develops in the future!