Join Fusion's SEO team as we round up last month's major industry updates.
Google Further Refines How Title Tags Are Generated In Search
Following feedback on the new system introduced back in August for generating titles in web page results, Google has made further refinements to how titles are shown in SERPs. These changes now mean that title elements (title tags) "are now used around 87% of the time, rather than around 80% before".
Within the Google Search Central Blog posted on 17th September, Google provided some examples of situations where they detect certain on-page issues and may choose to adjust the page title shown in search results accordingly:
Half-empty titles – Often occur when large sites use templates to generate titles and something is missed, meaning the title does not appropriately summarise the page contents.
Obsolete titles – Can occur when the same page is used year-after-year for recurring information, but the title element is not updated to reflect the latest year.
Inaccurate titles – Sometimes titles don't accurately reflect what the page is about, for example the page may have dynamic content and not display the same products as described in the title.
The advice does however remain the same, site owners should focus on creating great HTML title elements, as those are "by far what we use the most".
Search Console Performance Report Back To Normal After Significant Delays
Google Search Console once again experienced reporting issues last month, a separate problem to the previously discussed widespread data loss in late August. Within the SEO community it was widely reported that site owners were experiencing significant delays in the performance report data being shown, which was later confirmed on the Google Search Central Twitter account:
Two days later the bug was fixed, with all performance report data updated and back to normal:
New Google Help Docs On Best Practices For Ecommerce
Google has added a new multipage set of guides to help developers and SEOs better understand the best e-commerce practices for Google Search. These new help documents provide developers with the tools to ensure that the site works well with Google, which will ultimately help more shoppers discover your site and products.
Here's a short description of what is covered in each of the topic areas:
Google Clarify That Intrusive Interstitials Don't Impact Indexing But May Impact Ranking
As a response to a query on Twitter, asking if Google would not index a page because it triggers the mobile interstitial penalty, John Mueller said that "intrusive interstitial element has a ranking effect, it wouldn't affect indexing". Meaning a page would be indexed regardless of any intrusive interstitials, however, this may have an impact on ranking.
With that being said, it's worth rehashing the guidelines around intrusive interstitials to help ensure your site doesn't incur a penalty that would negatively impact rankings. Google deems an interstitial that makes content less accessible as intrusive, for example:
Showing a popup that covers the main content, either immediately after the user navigates to a page from the search results, or while they are looking through the page.
Displaying a standalone interstitial that the user has to dismiss before accessing the main content.
Using a layout where the above-the-fold portion of the page appears similar to a standalone interstitial, but the original content has been inlined underneath the fold.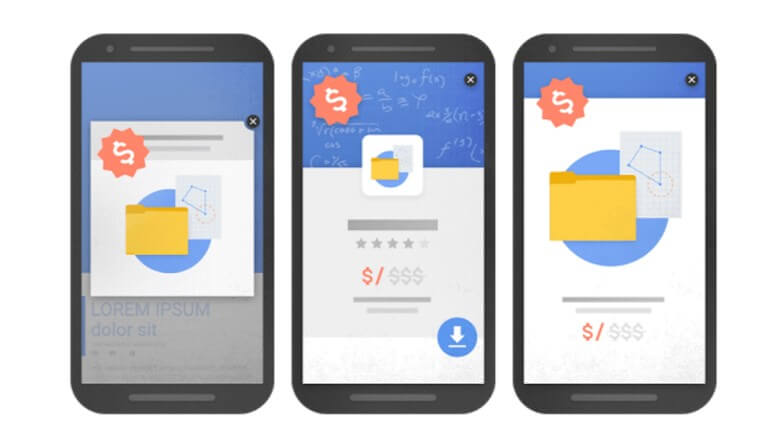 There are, however, some examples of interstitials that would not provoke a penalty, for example:
Interstitials that appear to be in response to a legal obligation, such as for cookie usage or for age verification.
Login dialogs on sites where content is not publicly indexable. For example, this would include private content such as email or unindexable content that is behind a paywall.
Banners that use a reasonable amount of screen space and are easily dismissible. For example, the app install banners provided by Safari and Chrome are examples of banners that use a reasonable amount of screen space.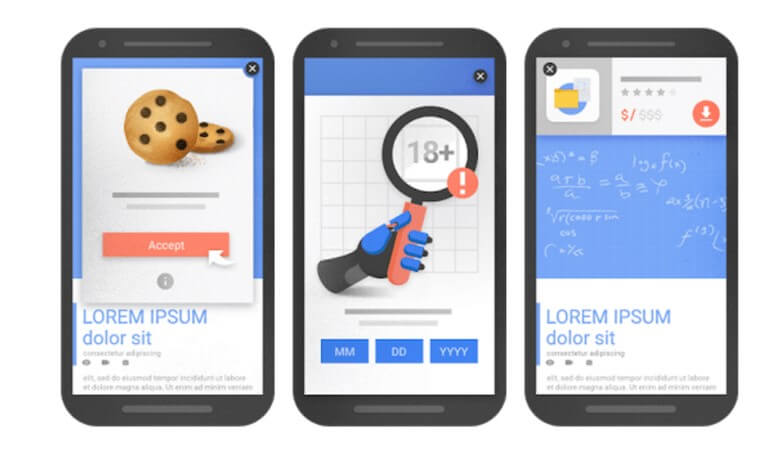 If you found this update useful, check out our latest blog posts for the latest news, and if you're interested in finding out more about what we can do for your brand, get in touch with the team today.