Instagram adds 'Least Interacted With' and 'Most Shown in Feed' following tab
Instagram has recently added two new lists within the following tab, which enable you to see the accounts that get the most visibility in your feed and those who you choose not to engage with as often.
The update provides a list of accounts you don't engage with a lot and recommends people who you should unfollow. This is to give users more control over their 'algorithm-defined' feed.
For example, if you don't like some of the accounts on the list, or if there are inactive accounts on there, you can remove or unfollow them as well.
The second tab allows you to see the accounts that frequently appear in your feed and whose posts you regularly engage with – this can make it easier for Instagram to suggest new content and accounts for you to like and follow.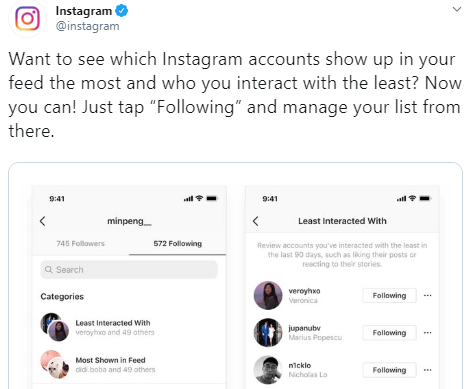 Andrew Hutchinson from Social Media Today said: "In terms of business use, it could help you pinpoint fans who are no longer engaged in your messaging, highlighting content variables that you may want to shift."
Another minor update alongside this is the option to reply to stories with GIFs. It is a fairly minor update, but now you can reply to any story with a selection of GIPHY GIFs. To do so, just search by keyword in the reply text box and send.
Twitter releases 'Manipulated Media' policy to limit fake content
Twitter has recently released its official rule against users posting fake, deceptive or manipulated content, whilst also launching a tag for 'detected' edited material.
The updates to detect and also prevent fake information include:
Notifying which Tweets share synthetic or manipulated media.
Warning users before they share or like Tweets with synthetic or manipulated media.
Adding a link – for example, to a news article or Moment – so that people can read more about why various sources believe the media is fake or manipulated.
Twitter explained the update: "When you come to Twitter to see what's happening in the world, we want you to have context about the content you're seeing and engaging with.
"Deliberate attempts to mislead or confuse people through manipulated media undermine the integrity of the conversation."
This will help to aid the 'fake news' agenda often promoted within the app.
Vine revamp as 'Byte' to rival TikTok
The co-founder of Vine has now officially launched Byte, which is said to be the second coming of former short-second video app Vine. The app is essentially Vine (creator videos up to seven seconds) with updated features and focus.
The app is said to rival record-breaking TikTok with Byte also making headlines as the most-downloaded social app in the US on its first weekend of launch.
In addition to the functionalities of Vine, Byte will eventually enable users to monetise their content. At launch, Byte lacks any of the additional remix, AR and effects tools available on TikTok currently.
Byte is currently featured on iOS and Android.
If you're interested in finding out even more about social media and how it can boost your brand, get in touch with the team at Fusion Unlimited today.