As of November 2014, Google will begin to account for how "mobile friendly" a page is as an organic mobile SEO ranking factor. Officially announced over at Google's Webmaster Central Blog, with this latest change to the ranking algorithm, Google are aiming to improve the online experience of mobile users. Whilst Google already penalises websites viewed as offering a bad mobile experience, this is the first we've heard of directly rewarding mobile friendly sites.
As well as the new update affecting page rankings, Google will also be introducing a new "mobile friendly" label. This will appear at the beginning of a page's search results snippet, as seen the in the example below, directly informing users that the page offers good mobile usability.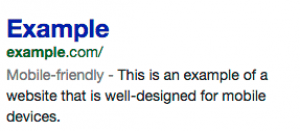 In order to qualify as a "mobile friendly" page, Googlebot takes into account a few criteria. Mobile friendly sites are classed as sites that:
Avoid technologies that are not universally compatible with all mobile devices e.g. Flash
Size content to fit the screen, so users don't have to zoom to view images or text
Have appropriate link spacing, allowing for easy clicking
Interestingly, the "mobile friendly" tag is attributed at a page level and not domain level.
To see if a page is considered mobile friendly, Google have provided a simple tool at the following link:https://www.google.com/webmasters/tools/mobile-friendly/. This tool is fairly self-explanatory, and easy to use. If users enter a site that meets Google's criteria for mobile devices, they'll be told the site is mobile-friendly, and greeted with a screenshot of how Googlebot sees the page, as seen below.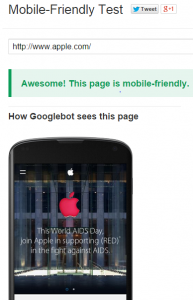 However, when users enter a site that doesn't meet the criteria, they'll be shown a list of reasons why the site in question isn't mobile friendly: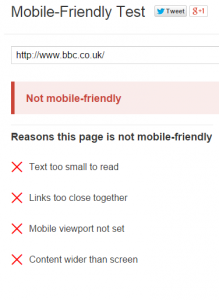 This comes shortly after the introduction of mobile usability reports to Google Webmaster Tools, a feature that informs webmasters of errors affecting many of the factors the new update will be taking into account. Alongside the announcement of a new "mobile-friendly test", it's clear that Google are pushing webmasters and developers to seriously consider the mobile browsing experience their sites offer to users.
Image Sources
http://searchengineland.com/google-officially-launches-mobile-friendly-labels-mobile-search-results-208949