The phasing out of third party cookies is in full swing with Google confirming an updated plan earlier this month to appease both advertisers and consumers. 
Whilst marketers have been aware of this development since August 2019, this new chapter of advertising is here knocking at our door. 
But before we delve into practicalities let's look at why this is all happening in the first place (and why it's important). Fear not, there is not a single reference to the daftly named 'cookiepocalypse' in this article…
What are cookies and why are they important?
Let's start off with the basics:
First Party Cookies
Stored by a website you visit, these cookies provide useful information for that website and shape how a user interacts with it. It's everything from which pages they visit, how long for, how often and, what they do. Don't worry – these aren't going anywhere and will actually become more important as we find out in this article.

Third-Party Cookies
These are tracking cookies that are stored under a different domain than you are currently visiting. They are mainly of use for advertisers as it enables them to track users between websites and display more relevant ads between websites.
How is this relevant to online privacy?
As third-party cookies enable advertisers to track the digital movements of users, there has been a growing demand for transparency and gaining back control of data. Whilst all users do have the option to opt-out of third-party cookies, it's not always straightforward to do so.
Google's figures show that searches for "online privacy" have increased by 50% globally year on year. A demand for anonymity from a digital presence in the era of information is no passing trend, however. You only have to look at the 1.2 million members of reddit's Privacy community or the creation of Tor back in 2006 to see that users are seeking solutions to digital anonymity.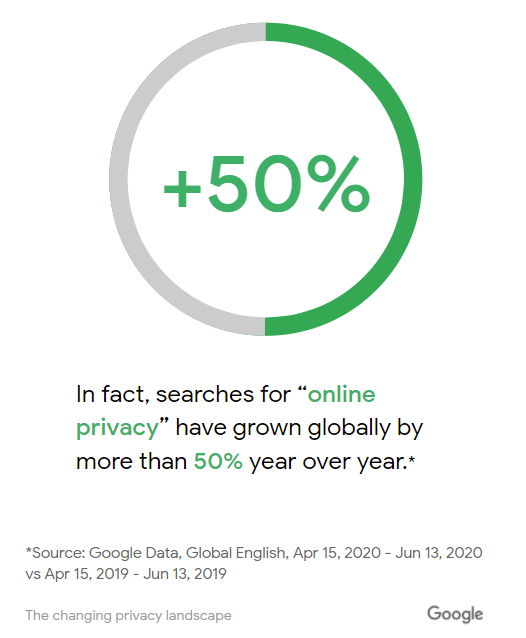 This demand in knowledge, or privacy as it were, has also led to an increase in content being published surrounding 'online privacy' over the past five years.

How has Google Chrome responded to the removal of third party cookies?
With Google Chrome having a whopping 63.5% of browser market share – as a market leader the internet giant needed to make its stance on cookies clear, especially as browser competitors were doing so.
The likes of Safari and Firefox placed limitations on tracking years ago with the latter using the following disclaimer in its February 2021 release:
At Mozilla, we believe you have a right to privacy. You shouldn't be tracked online. Whether you are checking your bank balance, looking for the best doctor, or shopping for shoes, unscrupulous tracking companies should not be able to track you as you browse the Web. For that reason, we are continuously working to harden Firefox against online tracking of our users.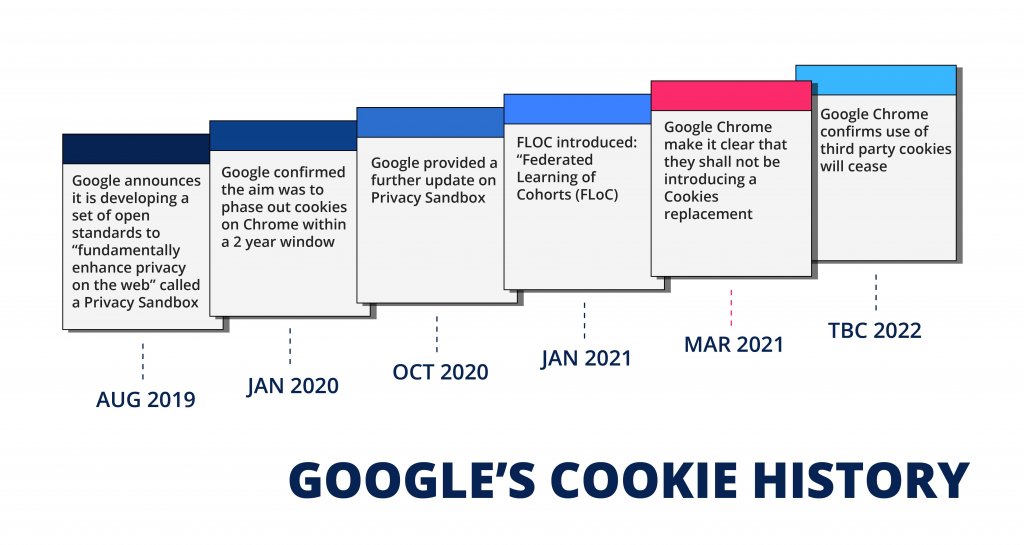 Google first stated its intention back in August 2019 when it sought to "develop a set of open standards to fundamentally enhance privacy on the web. We're calling this Privacy Sandbox". Fast forward to January 2020 and further rollout details became apparent with the announcement of a 2-year timeframe of cookies being phased out from Google Chrome. By October 2020 Google was prepared to share more detailed insights on the steps they were taking in relation to mitigating "deceptive and intrusive tracking techniques, such as fingerprinting" which saw it throw its weight behind supporting Secure DNS.
However, the largest development so far in this whistle-stop tour of Google's announcements has been the introduction of FLoC.

What is FLoC?
In January 2021, Google Chrome announced the creation of FLoC with a view of testing amongst advertisers to be rolled out as early as Q2 2021.
FLoC (Federated Learning of Cohorts) proposes a new way for businesses to reach people with relevant content and ads by clustering large groups of people with similar interests. This approach effectively hides individuals "in the crowd" and uses on-device processing to keep a person's web history private on the browser."
Before raising hell amongst advertisers who feared the future collapse of targeting as we know it, Google set the record straight earlier this month. "Today, we're making explicit that once third-party cookies are phased out, we will not build alternate identifiers to track individuals as they browse across the web, nor will we use them in our products."
What that's to say is that Google would not be providing the ability to use third-party cookies to target individuals, thereby protecting a user's right to anonymity, but would provide advertisers with the opportunity to target a cohort of similarly behaved groups. These interest-based groups could indeed be in their thousands so there's no denying that the precise nature of targeting will be lost in stark comparison but Google has assured advertisers that we can expect "at least 95% of the conversions per dollar spent when compared to cookie-based advertising." From here on in, only the performance of ads under the new targeting options will tell.
Some naysayers aren't convinced, with talk of FLoC undoing a decade's worth of work and even calling into question whether FLoC is even that private as there are seemingly ways around extracting user IDs from a cohort.
In Europe there are big question marks over whether FLoC is GDPR-compliant, prompting Marshall Vale to clarify that testing in Europe would be rolled out at a later date.
By 2022 Google Chrome confirms the use of third-party cookies will cease to exist entirely.
How can we be prepared for the change?
As a performance marketing agency, our Head of Paid Media, Jen Mottram, and Account Director, Kyle Brogan, share their thoughts on how the absence of cookies will shape the future of paid media as we know it, and why it's not necessarily a bad thing.  
What were your initial thoughts on the announcement of FLoC?
Jen: I'm very glad that a solution to the loss of 3rd party cookies is nearly ready, and we will have familiar targeting options. However, there are still a lot of questions; what about the 45% who do not use Chrome? can the privacy issues raised by some be rectified? Ultimately something is better than nothing, but I'm watching updates closely!
Kyle: It's reassuring that there is a recommended option available to allow advertisers to continue to target customers in a privacy-first manner. I'm keen to see how this develops over the next few months, and how robust it will be across networks beyond that of just Google.

How will we be preparing for a cookie-less future?
Jen: From a technical perspective, 1st party data will be a focus, luckily for us a lot of our clients have already heavily invested in this or are making all the right steps towards the necessary infrastructure.
Additionally, utilisation of AI, like smart bidding and responsive/dynamic ads, will be even more important to ensure campaigns are reactive to all other signals. We have built these into our clients' strategies and the tech behind is ever-evolving and robust".
Kyle: Conversations with clients, as solutions are developing, is key in ensuring all parties are prepared for a cookie-less future.
We're in the process of establishing what the potential risks are as well as what can be done now to ensure their 1st party data is in the best condition possible.

Keep an eye on our blog, LinkedIn and Instagram channels for information!