OVERVIEW
Halfords is the UK's leading retailer of automotive, cycling and leisure products.
The difficulty for omnichannel retailers has been in applying the same rigorous metrics to the evaluation of impact on store sales that we apply to online sales. With the direct support of Google, we sought to quantify how significantly changes in digital marketing spend can drive their in-store performance.
Together with Halfords, we were dedicated to proving how this can effectively be attributed.  We had a mission to delve deeper into the attribution model and identify the true relationship between online and offline, harnessing the power of digital for one of the biggest high street retailers in the UK.
Our Solution
In the first phase of the campaign, we worked closely with Google to combine (at scale) Halfords' own in-store transactional data with geo-targeted paid search activity. This allowed us to create normalised benchmarks on which a pilot test could be undertaken. 
The transactional data from 400+ Halfords stores was analysed to enable the creation of randomised, balanced test including control groups with comparable data sets. To ensure both groups' delivered the greatest possible ROI, they were monitored and optimised on a day to day basis alongside frequent interaction with Google to ensure budget was divided as required for their post-test analysis.  
We manually controlled and overrode Google's Smart Bidding strategies to ensure our overarching strategy didn't favour online conversions over offline. As a result of these changes, the account now no longer just drives online sales, it now individually supports over 500 Halfords stores.
"Fusion Unlimited have been instrumental in driving Halfords' digital returns this year. Their knowledge of Halfords, alongside their expertise, has driven fantastic results across paid search, affiliates, SEO and content marketing."
Karen Bellairs, Marketing Director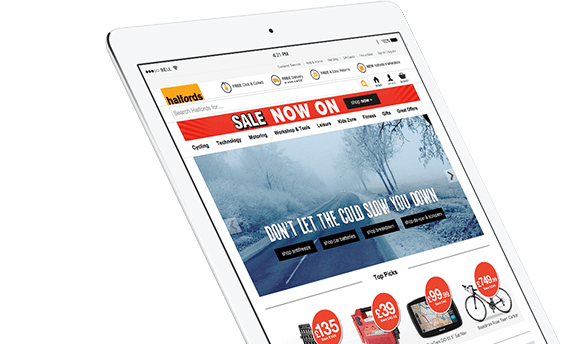 The Results
This campaign was nominated for 'Best Use of PPC' at both the 2020 and 2021 European Search Awards, whilst winning 'Best PPC Campaign' at the 2021 Northern Digital Awards, being commended by the judges for it's ground-breaking impact on high-street performance.
This work was also recently used a leading example in Google's global best practice 'How to reach local consumers in a dynamic market', published in September 2020:
43% increase in revenue through PPC
49% increase in store visits
23% increase in PPC ROI
How can we help you?
If you have a brief then we'd love to help. Please give us a call or drop us a line today.