The Drum's 2016 Independent Agencies Census, conducted in partnership with the Recommended Agency Register, has named Fusion Unlimited within it's  Elite Agency  listings for  independent media agencies.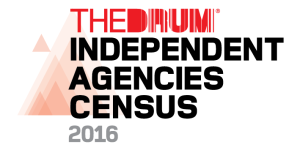 Agencies were ranked on Client satisfaction scores, including client service , strategic thinking and value for money (collected through recommendedagencies.com) and we're delighted that we gained a Top 10 listing in this category.
Agencies were also measured on financial performance across 6 measures, including both business growth and efficiency, and again fusion appeared within the top 20 agencies.
I think that's the right way around for us, as an independent agency, that our client satisfaction scores beat our financial scores, but to still be in the top tables for both categories.
Only those agencies who were able to rank at the top of both client satisfaction and financial tables are considered for an elite listing. At this point overall performance is measured in a head to head against the other media agencies that made the cut, (not all of these are digital marketing agencies) and fusion made the  top 10 elite agency list at number 7.
We're proud to be an independent agency, and to have great client satisfaction scores and still keep developing new approaches that drive results is all down to the very talented  team here at fusion unlimited.
Details of the results can be found here: http://www.thedrum.com/independentagenciescensus2016/media