Join Fusion's SEO team as they round up last month's major industry updates
BROAD CORE ALGORITHM UPDATE
Google pre-announced and rolled out a 'big' search algorithm update on June 3rd, which took five days to finish due to the servers and data centres around the world. It took a focus on all ranking signals, including E-A-T, so this influenced initial trends for sites bringing traffic increase and drops, primarily from 20% to 90% each way. Concluding results saw large publications such as Daily Mail, which saw the 50% drop in site traffic the day following the algorithm update.
For those asking, the June 2019 Core Update has not gone live yet. This thread will be updated when that process has begun.

— Google SearchLiaison (@searchliaison) June 3, 2019
Rather than thinking of Google algorithm updates as Google changing their mind on ranking signals and random sites being punished as a result, it seems clear that these updates are Google pushing sites to improve UI, content and site optimisation in a positive direction. Sites that have been "punished" as a result of broad core algorithm updates were most likely getting away with bad/unfavourable practises in the past, such as the Daily Mail using sensationalist headlines to drive clicks.
GOOGLE INTRODUCE XML SITEMAPS TO WORDPRESS CORE
Developers at Google have proposed a plan to integrate basic XML Sitemaps in WordPress Core, as well as an XML Sitemaps API to extend functionality for developers and webmasters. This introduction could mean one less third-party plugin to rely on and a feature that will be able to offer wider compatibility and support.
Poorly optimised plugins can slow down our site and negatively impact your organic traffic, so this implementation could provide a positive improvement in site speed, which is still one of the main ranking factors for many search engines, including Google and Bing.
GOOGLE REMOVED PREFERRED DOMAIN SETTINGS FROM SEARCH CONSOLE
The tool which allowed webmasters to set a preferred domain (displayed in the image below) has now been removed from Google Search Console

With the new Search Console, Google are now able to pick the preferred domain for you, based on the various signals that Google ingest, such as canonicals. This prevents duplicated content that can be competing against each other in the search results by sending multiple different URL's to the canonical URL.  Google have not said if they'll communicate canonical URL changes in the index so you will need to ensure that your canonical URL listed in Google has stayed the same.
GOOGLE CAUGHT ILLEGALLY SCRAPING LYRICS FROM GENIUS
Genius has accused Google of scraping their content and serving it directly in its search results. Genius switched up their quote mark styles to form a unique Morse code which spelt "red handed" in order to catch Google out. In this case, Genius are impacted negatively because Google are using info boxes to display lyrics as a rich result, keeping users on Google rather than sending them to the creators' website. This dramatically decreases the click-through rate for Genius.
Lyrics in info boxes on Google Search are licensed, we don't generate them from other sites on the web. We're investigating this issue and if our data licensing partners are not upholding good practices, we will end our agreements.

— Google Communications (@Google_Comms) June 16, 2019
Google have said to include attribution to the third party providing the digital lyrics text so that users and site owners will be able to know where the licensed content was sourced from.
MILLIONS OF FAKE BUSINESS LISTING SPOTTED IN GOOGLE MY BUSINESS
Google Maps is carrying millions of illegitimate local listings, growing drastically each month. The fake listings push real businesses lower down in the search results which impact their ability to reach customers and makes it easier for these customers to be targeted by scammers. Google are failing to take down fake business listings and verify the real ones which is turning local businesses to paid ads to regain their search visibility.
GOOGLE MY BUSINESS INTRODUCES SEARCHABLE SHORT NAMES
Desires for a simple URL to promote a user's businesses have been met with searchable short names. This gives users a unique way of targeting a business. This will be a global namespace and could have competition for rankings and handles between similarly named businesses.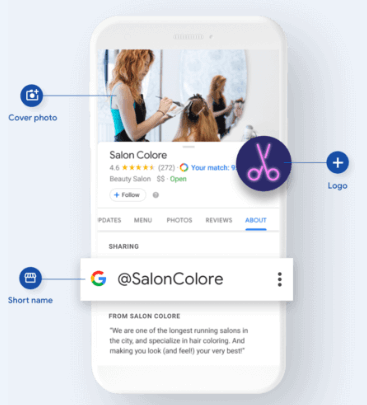 GMB have added more branding and promotional tools for businesses, including:
Logo
Cover photo
Dynamic photo module
Welcome offers
Promotional assets
These features furthermore verify the users profile to help their brand to be more effectively promoted.
GMB have also introduced 'Local Favourite' which offers a badge to the top 5% of local businesses in a category, increasing preference over other businesses so search result ranking will be less important.
NEW GOOGLE SEARCH CONSOLE FEATURES
Google announced two new features to the Google Search Console. You can now search within the mark-up quickly to find the spot in the mark-up that you want to adjust. You are also able to copy the code and mark-up and then experiment with it without impacting the original, giving you the chance to see if the tweaks you make pass validation and result in the outcome you want. These features make debugging issues with your mark-up for structured data issues faster.
https://twitter.com/googlewmc/status/1143162650332979202
GOOGLE NO LONGER USES SOCIAL PROFILE MARK-UP FOR KNOWLEDGE PANELS
Google have deprecated social profile markup, which means that Google automatically discover the social profiles to include in the knowledge panels. You are still able to specify your preferred social profiles and suggest a change if you are an official representative to claim a knowledge panel.