Join Fusion's SEO team as they round up last month's major industry updates
GOOGLE I/O
With Google I/O having taken place from May 7th-9th, we were treated to several announcements on features that have been and are due to be released for Google search, these include:
Googlebot Evergreen
FAQ and How To structured data
Podcasts & Full Coverage in Google Search
Google Maps AR mode
Google Lens features
We will dive further into these new features below.
Googlebot Evergreen
Google announced that Googlebot is now running Chromium 74, from previously running Chromium 41, which was released in 2015. This major update now means that Googlebot supports over 1,000 new features, this includes:
ES6 and newer JavaScript features
Google Developer Martin Splitt provided more information on the new features that Googlebot supports.
https://twitter.com/g33konaut/status/1126412496754159616
Despite these major updates in Googlebot's ability to render JavaScript, any JavaScript on a page is still only rendered on Googlebot's 2nd crawl of the page, meaning that there is still a delay to Google indexing JavaScript content.
FAQ AND HOW-TO SCHEMA
Google released support for FAQ and How-To schema during Google I/O. These schemas come with new rich results within Google's SERPs.
FAQ schema can be applied to pages that contains a list of questions and answers around a specific topic. This is unlike QAPage schema, which is relevant for pages that allow users to submit answers to a single question, such as forums.
Example of FAQ Schema rich results: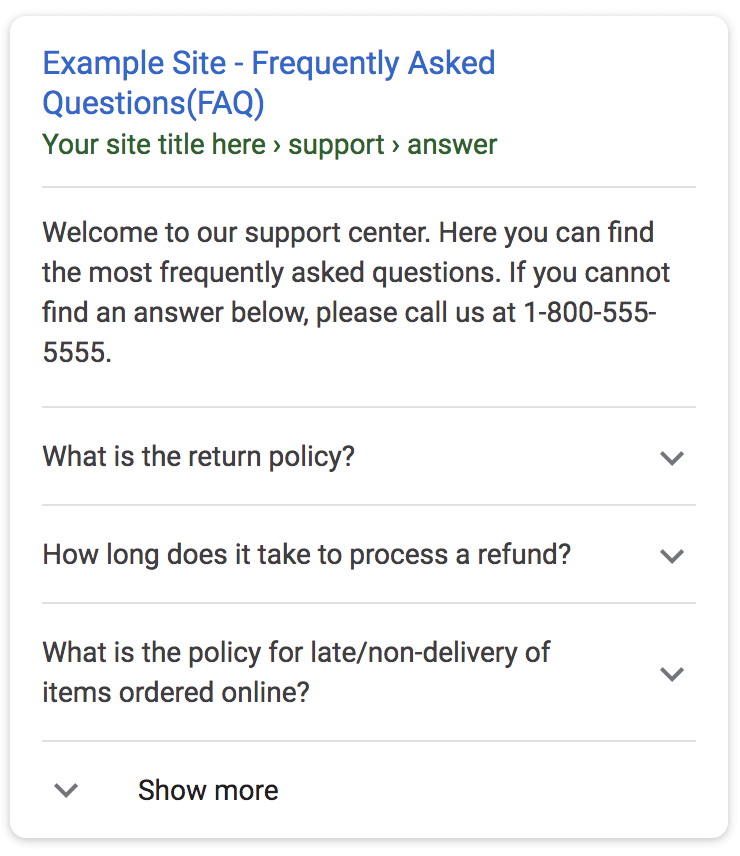 How-To Schema can be applied to pages that provide step-by-step instructions in order to complete a task, such as "how to tie a tie". For any instructions for food and drink related topics, ensure that the Recipe Schema is used instead.
How-To Schema can be displayed in a standard and an image rich result within Google SERPs.
Standard snippet: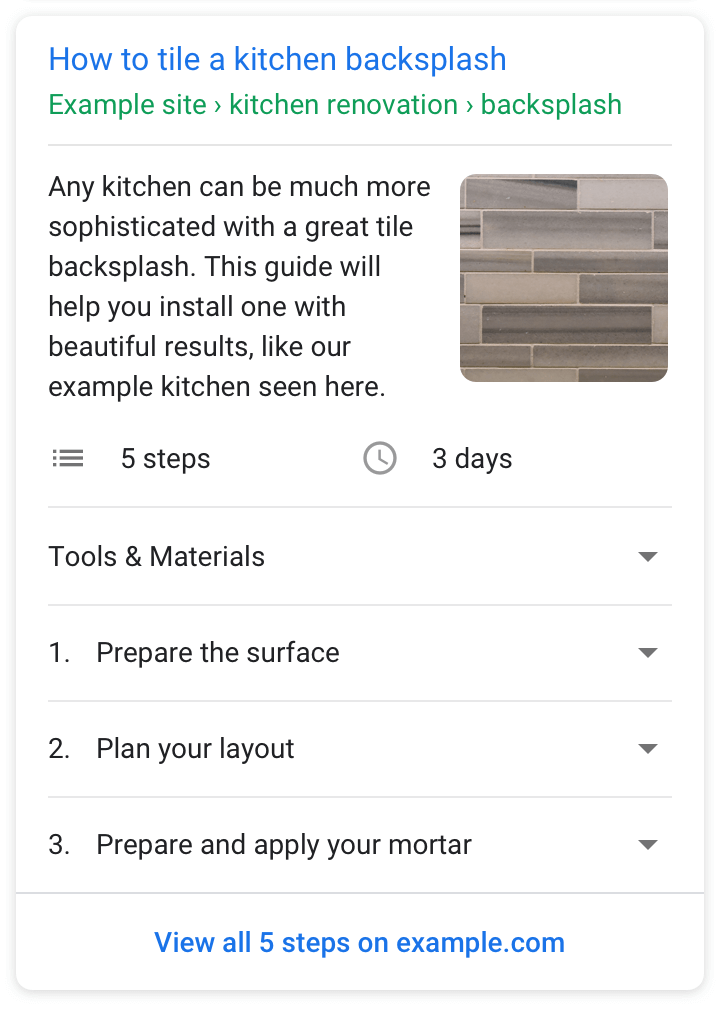 Image snippet: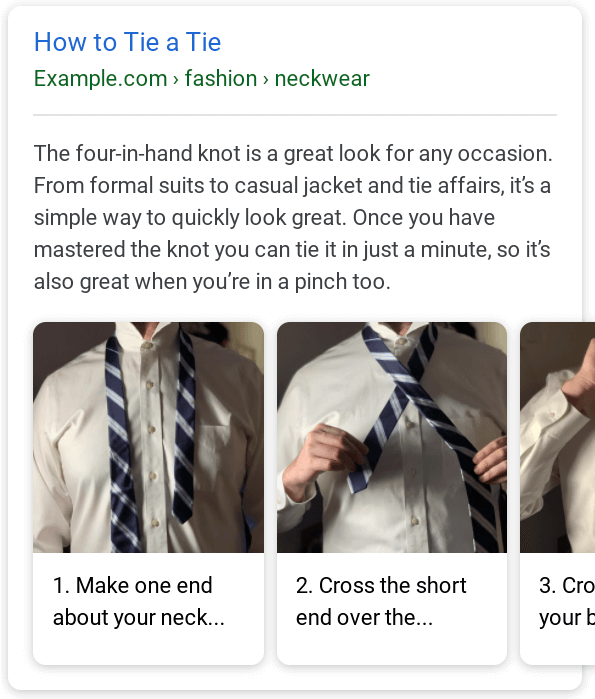 Ensure that any pages with How-To Schema implemented comply with the content guidelines provided within Google's How-To Schema help page.
PODCASTS & FULL COVERAGE IN GOOGLE SEARCH
Announced at Google I/O, podcasts will be shown within search. Google have informed that they will be able to transcribe and index a podcast's content in order to display results for relevant searches, rather than relying on the podcast title to display the contents of the podcast. Podcasts will also be displayed within Google's "full coverage" segment, which previously displayed within Google News, will now be able to display within SERPs.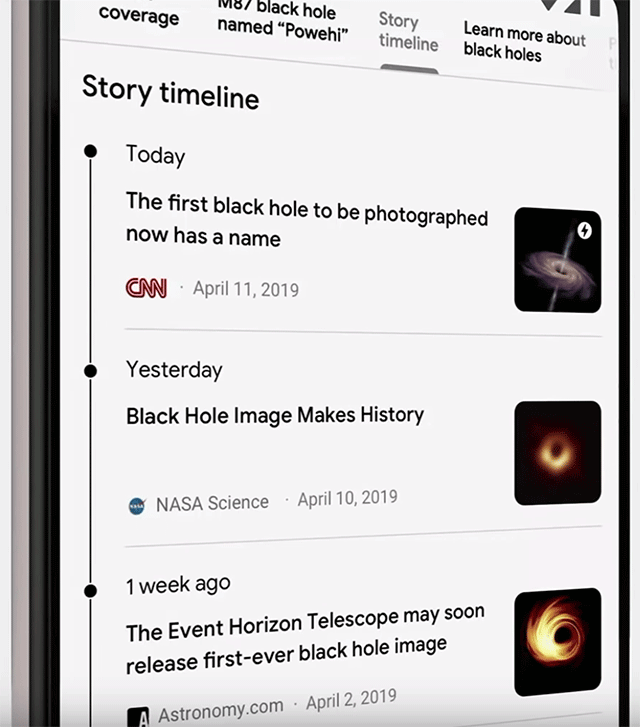 Full coverage displays a large range of information on a searched topic, such as top stories, videos, informational pages, podcasts and related queries.
GOOGLE BRING AR TO GOOGLE MAPS
Currently only available on Google Pixel smartphones, Google Maps now has the ability to enter AR mode, which will allow people to receive directions through their camera.
With this feature being especially useful for anyone visiting a city and trying to locate local restaurants, business and points of interest, it is becoming more of a priority to ensure that any bricks and mortar stores have been added to Google My Business and the location pins are accurate.
As an addition to this, Google Maps will support incognito mode, allowing users to hide their activity, such as places searched or directions used. Google have also been testing branded pins within Google Maps.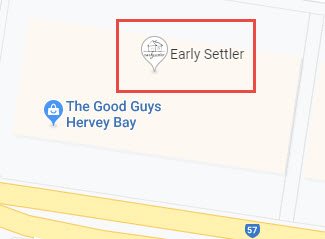 No announcement has yet been made in regards to how these will be implemented.
NEW GOOGLE LENS FEATURES
Google have released several features for Google Lens, most of which are focused on restaurants. Google Lens will now have the ability to recommend popular dishes and also find reviews on specific dishes on a menu by pulling information from Google Maps information.
GOOGLE UPDATED THE SEARCH QUALITY RATERS GUIDELINES
Google have updated the search quality raters guidelines in order to expand and modernise a couple of points, mainly surrounding E-A-T and interstitials. In regards to the changes mate to E-A-T (Expertise, Authoritativeness and Trustworthiness), Google have added emphasis to focusing on page quality over E-A-T on non-YMYL (Your Money or Your Life) pages and also that everyday expertise can be assessed based on the talent/skill level depicted in cases where the content creator is demonstrating formal or everyday expertise but is not doing any harm.
Google have also added further information on how to deal with interstitials and have now been included within segments discussing that if these are to be used, they should be clear with easy-to-close buttons.
GOOGLE MAKES MOBILE-FIRST INDEXING A DEFAULT FOR ALL NEW SITES
Google have announced, via their webmaster central blog, that commencing 1st July, all new and previously unknown sites will have mobile-first indexing enabled as a default.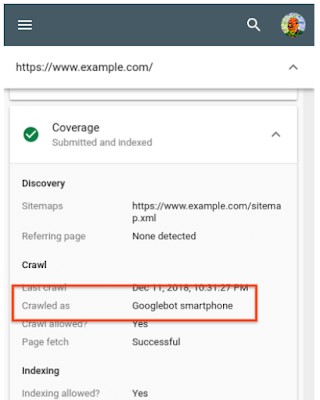 As shown above, users will be able to check for mobile-first indexing by using the URL inspection tool within Google Search Console.
GOOGLE SEARCH CONSOLE ADDS NEW REPORTS
3 new report have been added to Google Search Console this month. The first of these reports is the unparsable structured data report, this will allow users to view a list of structured data found on a site that cannot be parsed due to serious syntax issues. The final 2 reports are the Logo and Sitelinks searchbox reports, similar to the unparsable structured data report, if a site is using logo schema or Sitelinks searchbox, Google will inform of any errors it is detecting.
GOOGLE ANNOUNCED BROAD CORE ALGORITHM UPDATE
For the first time, Google has pre-announced that they are due to release a broad core algorithm update on 3rd June 2019. Unlike the daily algorithm refinements that Google makes daily which have a specific focus, such as site speed, broad core algorithm updates focus on all ranking signals.
Tomorrow, we are releasing a broad core algorithm update, as we do several times per year. It is called the June 2019 Core Update. Our guidance about such updates remains as we've covered before. Please see this tweet for more about that:https://t.co/tmfQkhdjPL

— Google SearchLiaison (@searchliaison) June 2, 2019
GOOGLE DISPLAY FAVICONS WITHIN RESULTS PAGES
Announced on The Keyword, Google released a new design on their search result pages. Within the redesign, Google have added favicons to Google search results.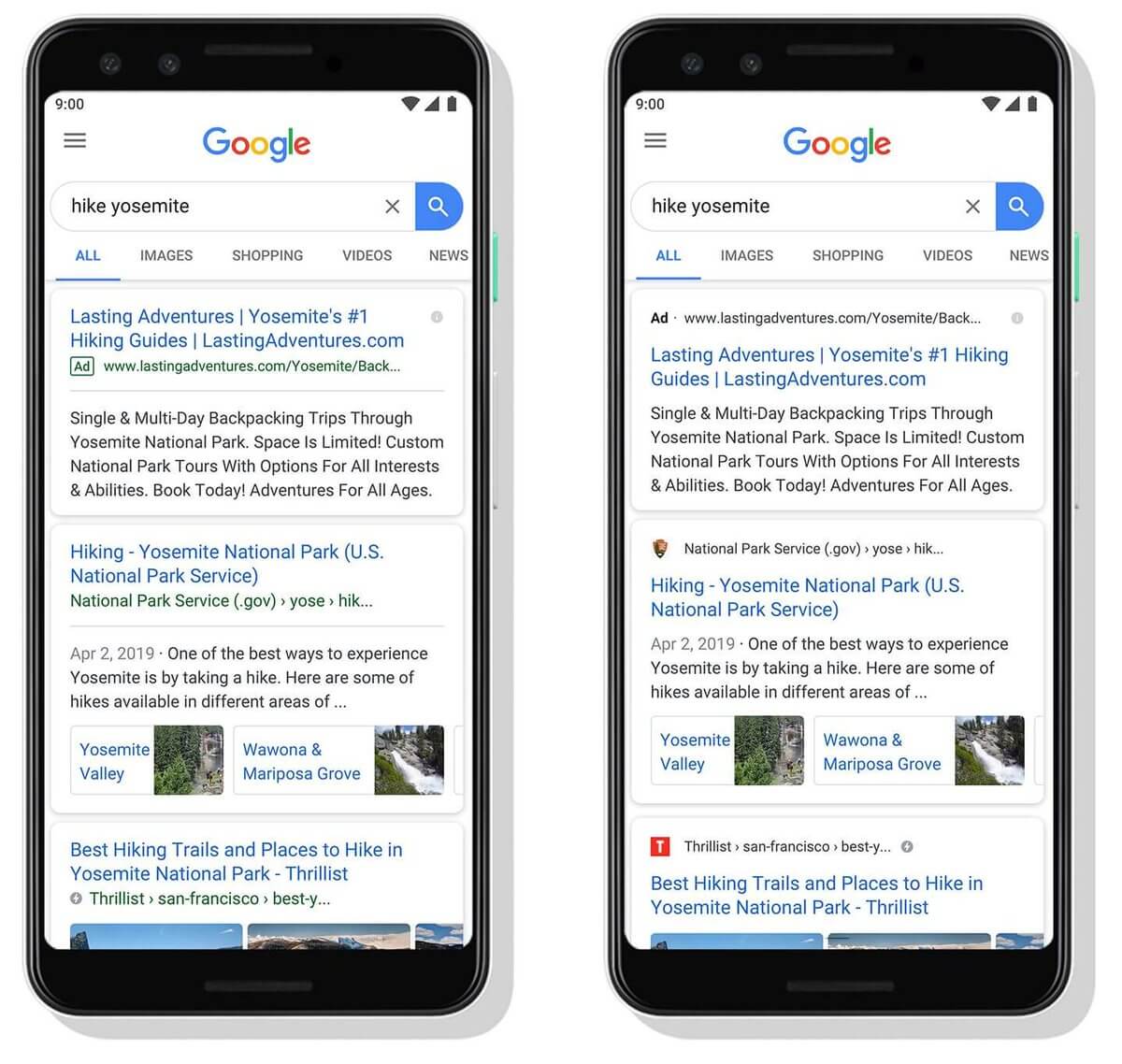 Along with the addition of favicons, Google has also redesigned how ads will be displayed within SERPs and have received criticism in regards to ads and organic results with favicons looking very similar.