Join Fusion's SEO team as they round up last month's major industry updates.
GOOGLE
Updates that look place within Google SERPs and miscellaneous Google tools in November.
PAGESPEED INSIGHT REPORT REVAMP
Announced via their Webmaster Central Blog, Google have given the PageSpeed Insights report a facelift, along with assigning Lighthouse as its analytics engine in an attempt to help create more consistent results across Google's auditing tools. The insights report will now also incorporate data from Google's Chrome User Experience Report (CrUX).
The PageSpeed Insights will now provide the following information:
Field Data – displays real-world data, such as First Contentful Paint (FCP) and First Input Delay (FID), provided by the CrUX report. This report is updated daily and not all sites will have this data available for display.
Lab Data – simulating how a mobile device loads a page, this data is provided by Lighthouse and will display data such as First Meaningful Paint and Speed Index. The results from the simulation are summarised and used to provide a score between 0 and 100 to indicate how good a page's performance is.
Opportunities – provides a list of suggestions on how to improve the page's performance, these are ordered by how much of a performance improvement each suggestion should make.
Diagnosis – displays additional best practices in order to improve performance.
GOOGLE DISPLAYING MULTIFACETED FEATURED SNIPPETS ON DESKTOP
After being released for mobile searches this February, Google results have been spotted displaying multifaceted featured snippets within desktop results.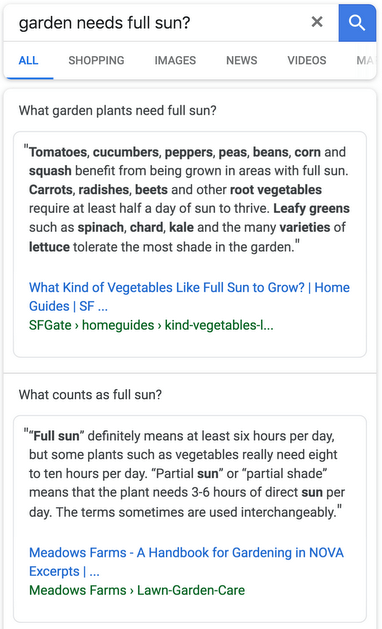 It is currently unclear if the same site can rank for both of the queries. Once this has been fully rolled out, site owners may see an uplift in traffic for pages displayed within these snippets, but also see a drop in traffic for standard organic results as these will be pushed further down within the SERP.
AMP ARE CHANGING HOW URLS ARE DISPLAYED
Many sites utilise AMP pages to help landing pages load near instantly, this has been seen to improve user experience, which can lower bounce rates, increase average session duration and ultimately help increase conversions. Regardless of those positives, the one glaring feature that has been receiving negative feedback since AMP pages release, has been the fact that the displayed URL makes it very obvious that users are on an AMP page, this can look confusing to users due to not displaying the sites URL as they expect.
AMP released a blog post on November, 13th to announce that they have begun a trial that will be available in Chrome 71 in which users can transform AMP URLs to look like the sites URL rather than an AMP URL.

For a demonstration of this new AMP feature, users will need Chrome 71 (or use Chrome Beta), visit https://g.co/webpackagedemo and search for "Learn AMP by Example" and click on the ampbyexample.com home page.
GOOGLE'S NEW HOTEL LOCAL PACK IS AVAILABLE
Google have released a new design for their hotel local pack which is currently displayed below paid results and above organic results.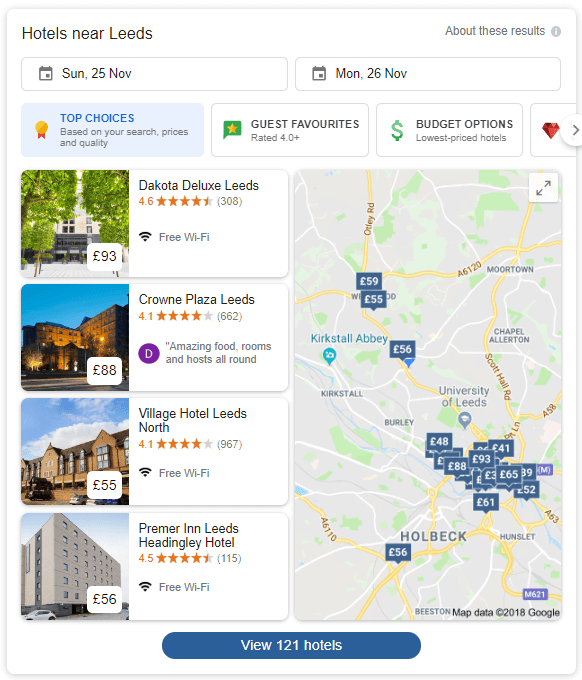 The results are optimised to the search query used and the users Google account, if they are signed in. These results will also highlight hotels that the user has stayed in before and allow users to click on filters, such as guest favourites, budget options and luxury stays.
COMMENT ON LIVE SPORTS WITHIN GOOGLE SEARCH RESULTS
This feature was originally added during the World Cup, but has since received a dedicated help sheet and management page that will allow users to view and manage all of their comments and reviews.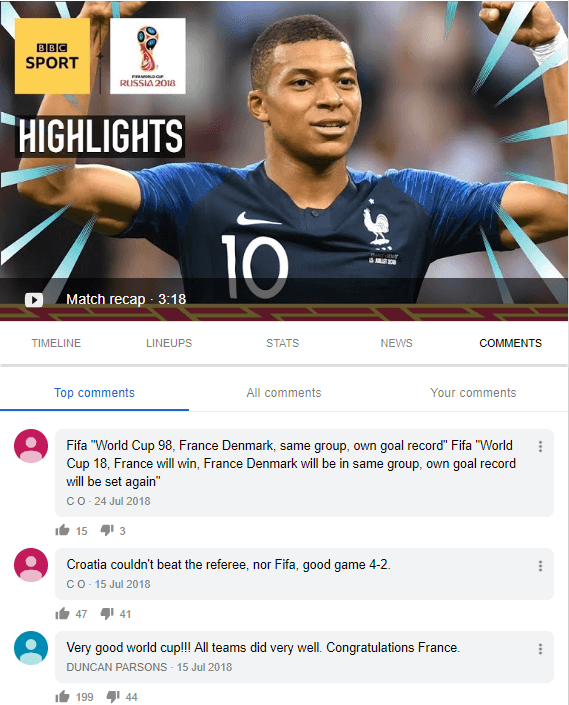 This feature is currently only available for some sporting events, such as Football. It is currently unclear if Google are looking to expand on events or topics in which commenting is available.
GOOGLE SEARCH CONSOLE
Updates that look place within Google Search Console in November.
GOOGLE SEARCH CONSOLE IS WARNING USERS OF UNCLEAR SUBSCRIPTION PAGES
In an effort to stop users from accidentally signing up to subscriptions or paying more than they expected, Google is cracking down on unclear mobile subscription pages by warning webmasters who aren't following Google's mobile billing best practices via Google Search Console.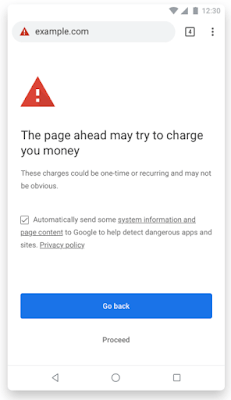 Starting from Chrome 71, Google will also display a warning for all users who visit the mobile subscription page if the page still does not comply with Google's best practices. This warning will appear on Chrome Mobile, Chrome Desktop and Andriod's WebView.
GOOGLE SEARCH CONSOLE TESTS DOMAIN PROPERTIES
Currently only available to a limited amount of accounts, Google is testing domain properties within Search Console. These properties will group together subdomains, protocols and subpaths:
For example, if you define a Domain property as 'example.com', it includes example.com, any subdomains of example.com (for example, m.example.com, support.m.example.com, www.example.com, and so on), as well as any subpaths in any of those domains, on both http and https."
Users will be allowed to define a domain using a public suffix (e.g. .com, .org, and .co.uk), only one public suffix can be used per property, so users will be unable to mix this data within Search Console (e.g. combining .co.uk with .com data).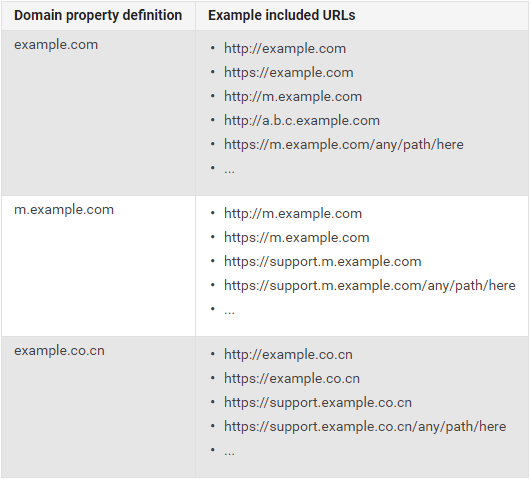 The above table displays examples of what URLS Google Search Console will group, depending on what is defined as the property URL.
GOOGLE SEARCH CONSOLE DISPLAYS EVENT LISTING AND EVENT DETAILS IN PERFORMANCE REPORT
Available within the search appearance filters in Google Search Console, the event listing and event details filters will now allow users to view the performance of these within the performance report. The event schema will need to be applied to the event pages in order for Google Search Console to track the performance.
GOOGLE MY BUSINESS
Updates that look place within Google My Business in November.
GOOGLE ADDS NEW FEATURES TO THE GOOGLE MY BUSINESS APP
The Google My Business App received an update mid-November. App users will now be able to post pictures, offers and events, view when a customer posts a review, messages or follows the user's business listing within the new Customers tab, and view performance analytics which will be displayed from the homepage, all within the app.
In addition to the new app being released and the new ability to follow businesses, as discussed in our previous blog, Google My Business have also updated how messaging businesses works. Previously, messaging a business through a Google My Business listing would send an SMS to the business. Users are now being given the option to message through the Google Maps app rather than SMS if they prefer.
GOOGLE DATA STUDIO
Updates that look place within Google Data Studio in November.
GOOGLE DATA STUDIO ALLOWS USERS TO CREATE FILTERS WITH CHART DIMENSIONS
Released at the start of November, Google implemented the option to create filters from the dimensions of charts, tables and graphs. Within the below report, clicking on 'United States' within the pie chart will filter the results of the table to only display sessions for this location and vice versa. This filter will work on all grouped charts within the same data source.
Right clicking on the report and clicking 'reset action' resets all charts back to displaying their data without interactive filters applied.
SEARCH ALL FILTER CONTROLS ADDED TO DATA STUDIO REPORTS
The 'search all' filter was added to Google Data Studio at the start of the month and will allows users to filter data by phrases, numbers or regex.
EMBED EXTERNAL CONTENT WITHIN GOOGLE DATA STUDIO REPORTS
Using the new URL embed button within Google Data Studio, it is now possible to embed YouTube videos, web pages and Google Docs in order to create a rich, multi-media experience.