From a LADbible campaign asking the UN to recognise a country made from trash, to Cristiano Ronaldo showing he's as good at marketing football as playing it, Fusion Content round up five of September's best campaigns.
Unicef drives empty school busses through New York streets to highlight children's education in war zones
Unicef estimates that around 27 million children aged 6-15 are unable to access an education due to the immanent threats of war and conflict. In the run-up to last month's UN General Assembly, they combined with non-profit ad agency KBS in a creative campaign that poignantly illustrated the statistic by driving twenty-seven empty school busses through the streets of New York, bearing banners like 'Books not bombs' and 'Avoiding land mines shouldn't be an extracurricular activity' and carrying just one passenger, Muzoon Almellehan, a Syrian refugee whose family fled the country's civil war in 2013.
The busses brought the statistic to life with an appropriate urgency. Their convoy almost resembled a blockade as they drove sombrely towards the UN building, slowing down traffic and creating physical space in which the issue was able to become present and enter public consciousness.
https://www.instagram.com/p/BZKNHoclIE4/?taken-by=unicef
Netflix gestures to the Upside Down in zany Stranger Things cease-and-desist letter (and shows us all how to do our monitoring)
1984 was pretty strange, tbh. #StrangerThings pic.twitter.com/vy9Hsa1lrU

— Stranger Things (@Stranger_Things) October 3, 2017
From Narcos-inspired ads in nightclub toilets to giant billboards declaring 'Netflix is a joke', Netflix's marketing strategy has lately been relatively out-there. They're doing it incredibly well.
One of the company's most recent successes showed succinctly how a creative strategy shouldn't just be targeting big wins, as they turned a cease and desist letter into a brilliant basis for content: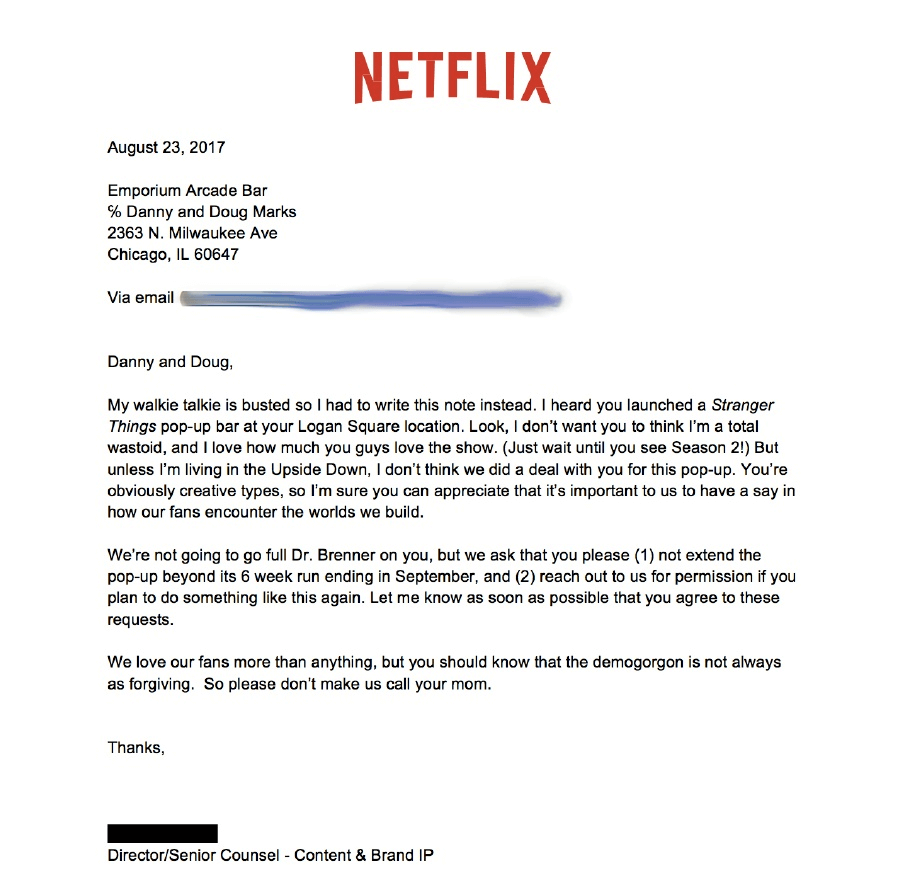 The letter addressed to a Stranger Things based pop-up bar lacking the studio's authorisation encapsulated the show's kooky and charming tone to a T. The writer begins by confessing that their 'walkie talke is busted so I had to write this note instead', before saying soon after:
Look, I don't want you to think I'm a total wastoid […] but unless I'm living in the Upside Down, I don't think we did a deal with you for this pop-up. You're obviously creative types, so I'm sure you can appreciate that it's important to us to have a say in how our fans encounter the worlds we build.
This was a deft and elegant way of handling a potentially difficult situation, illustrating how brands can still – when appropriate – keep negative engagements with consumers engaging. 'We love our fans more than anything,' it ends, 'but you should know that the demorgorgon is not always as forgiving. So please don't make us call your mom'.
LADbible dives in at the deep end in Plastic Oceans campaign
Each year, eight million tonnes of plastic are deposited into the world's oceans, devastating marine wildlife. The figures are so great that by 2050, scientists anticipate the plastic in the ocean will outweigh the fish. To confront the issue head on, LADbible teamed up with activist group Plastic Oceans and a star-studded line-up of influential names, like Mo Farah, Judi Dench and Ross Kemp, in an outside-of-the-box campaign that sought to make the UN acknowledge the country status of a giant patch of trash in the Pacific Ocean, which they've Christened 'The Trash Isles'.
To be recognised as a country, a region must meet several criteria, and LADbible has ensured that the Trash Isles ticks the boxes: it has a defined region, a newly-formed government, an increasing number of registered residents (vis-à-vis a Change.org petition), is in dialogue with other states, and even has a beautifully designed currency that's humorously called Debris.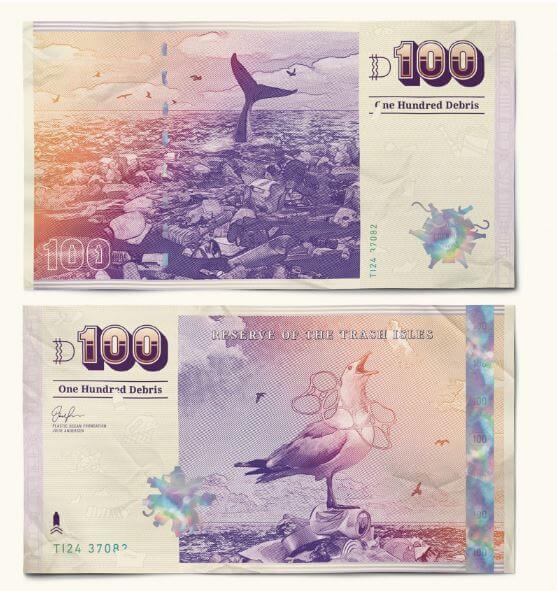 The UN Charter dictates: 'All members shall co-operate in a spirit of global partnership to conserve, protect and restore the health and integrity of the Earth's ecosystem'. In other words: because UN member states are responsible for ensuring that member countries are ecologically responsible, gaining membership for the Trash Isles would oblige the UN globally to assist in a clean-up of the ocean.
This is an excellent campaign, supported by influencer campaigns, social media activity and onsite content, by a ground-breaking brand, whose 3.2bn generated views in March this year made them rank as the month's most popular video creator in the world.
Lyft heads to the Wild West for new prospects as Uber's stock continues to fall
After becoming embroiled in various scandals and controversies often of its own causing, the last few years for Uber have been a fairly bumpy ride. Their misfortunes have presented a rare opportunity for rival rideshare apps to increase their foothold in the market. To increase their brand's prominence in relevant conversations, competitor company Lyft has begun honing its brand identity, in a series of humorous ads starring actor Jeff Bridges that tie into the American history of journeying with surreal references to the trends of today.
The ads show actor Jeff Bridges in various Western settings with nods to 21st century pop culture: one sees Bridge's character sat in the passenger seat declare 'Shame they haven't invented the football yet. Sure would be good to have something to talk about', whilst another sees a passenger texting 'lol' through a typewriter.
Capturing a sense of history with tongue-in-cheek flair, the ads demonstrate the worth of taking time to work on fleshing out your brand's identity itself, rather than solely promoting your products/services. Doing the first can massively help with the latter.
FIFA brings Ronaldo off the bench for ad campaign
Few dates in the video games calendar are more hyped than the release of each year's new edition of FIFA. This year, the game's publishers EA Sports brought their marketing strategy literally to life by involving Cristiano Ronaldo, asking him to create his own footballing skill that would be included in the game.
It's a brilliant example of using an influencer's input to promote your own material. Fans keep returning to the video game because it enables gamers to embody their favourite football players. Personally involving Ronaldo's creative input, FIFA has made that connection stronger than ever.
Come back next month, and we'll see what October had in store!