July proved to be a busy month on the football pitch: the England women's team demonstrated superb quality throughout the European Cup, defeating France for the first time in forty-three years to reach the quarter finals, before losing 3-0 to a clinical Netherlands side in the semis, whilst various high profile moves have consistently dominated the headlines.
Lest we get too carried away, last month was busy for content, too: some campaigns gloriously hit the back of the net, whilst others variably missed the mark. Join us for post-match highlights of last month's campaign activity and trends!
Converse goes back to school
Amidst the new trailers for the second season of Stranger Things, Millie Bobby Brown, one of the show's star actresses, has been making headlines all of her own, teaming up with Converse for a quirky back to school campaign titled 'First Day Feels':
Big Spaceship, the agency behind the campaign, converted the video into a range of GIFs, to be shared by leading relevant publications such as Buzzfeed and Teen Vogue.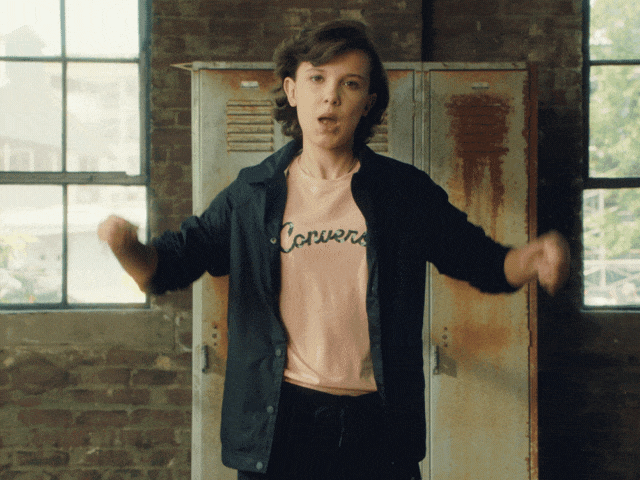 It's a neat example of a brand creating compelling content by combining with a key influencer who bears enormous appeal to target audience.
Simultaneously, with her performance as Eleven fresh in our memories, Bobby Brown creates a great link between the brand and the Stranger Things series – a show that perfectly hits the retro notes that Converse are looking to replicate.
Whilst Tourism Ireland heads to Westeros
For years, vast parts of HBO's iconic series Game of Thrones have been shot in Ireland. To commemorate the launch of season seven, Tourism Ireland immortalised the exploits of the series' characters in a gigantic artwork based on the Bayeux Tapestry. At a colossal seventy-seven metres long, it's actually seven metres longer than the original!
The artwork is available online in all its glory. The physical original is on show in Belfast's Ulster Museum.
Football gets creative with transfer announcements
As cheques matching the GDP of small countries continue changing hands, the world's leading football teams have decided to replicate their investment on the pitch with their creative endeavours off of it, producing imaginative, weird and wonderful videos to announce their new signings' arrivals.
In particularly dramatically notes, Sevilla announced the return of their former captain Jesus Navas:
Whilst last month, Chelsea humorously revealed the signing of AS Roma's Antonio Rüdiger:
https://twitter.com/ChelseaFC/status/884064814150111233
Of all teams contesting for creative premiership, however, AS Roma look set to clinch the metaphorical title, passing deftly to absurdity in their surreal announcements of Başakşehir midfielder Cengiz Ünder and Manchester City full-back Viktor Kolarov.
For Ünder, Roma's fancy announcement video parodies the concept of YouTube highlights reels:
https://twitter.com/ASRomaEN/status/886495642968838144
For Kolarov, Roma's fancy announcement video parodies the concept of, well, fancy announcement videos:
https://twitter.com/ASRomaEN/status/888873801831727104
Airbnb and Audi link up for Bayern Munich giveaway
As one of the world's leading companies, it makes sense that Airbnb's campaigns should rank amongst the best. Recently, we covered Airbnb's partnership with a Chicago gallery that enabled guests to sleep in a real life envisioning of a Van Gogh painting.
Last month, Airbnb partnered with Audi to promote the Audi Cup, a football tournament based in Bayern Munich's Allianz Arena, lacing up their imagination and offering one lucky family the chance to sleep for a night on the stadium's pitch, as the guest of FC Bayern defender, Jerome Boateng.
With @Audi_online & @Airbnb_DE we will give the chance to spend a #NightAt the #AudiCup in the @AllianzArena! Apply ►https://t.co/tXhGAMsQSM pic.twitter.com/Lw4LIl8tjX

— Jerome Boateng (@JB17Official) July 15, 2017
The prize was a holistic Audi and Bayern experience: a driverless Audi A7 collected the winners from the airport and drove them to the stadium, where they were introduced to the Bayern Munich players and given VIP seats for Bayern's match against Liverpool. After the match, they were able to catch up with Bayern player Jérôme Boateng, one of the world's best footballers, before getting a good night's sleep on the green!
Like Converse and Bobby Brown, Audi and Airbnb's partnership benefitted both brands considerably, especially with football thrown (or rather, kicked) into the mix: both Audi and Airbnb capitalised on promotional opportunities, where their combined contributions strengthened the overall campaign's effect all the more.
With that, it's auf Wiedersehn from us! Come back next month for all of August's content news!