Join Fusion's SEO team as we round up last month's major industry updates.
AI Generated Content Is Against Google Guidelines
In a recent Google Search Central SEO office-hours hangout, Search Advocate John Mueller weighed in on the widely discussed topic of GPT-3 AI writing tools and, more broadly, the nature of automatically generated content.
Mueller says that any content written by AI is considered as automatically-generated, which is against Google guidelines and could lead to a manual penalty. Here is the full response given:
"If you're using machine learning tools to generate your content, it's essentially the same as if you're just shuffling words around, or looking up synonyms, or doing the translation tricks that people used to do.
My suspicion is maybe the quality of content is a little bit better than the really old school tools, but for us it's still automatically generated content, and that means for us it's still against the Webmaster Guidelines. So we would consider that to be spam."
Soon after this conversation, the Webmaster Guidelines were updated to provide more clarity on this subject. Within the Quality Guidelines section, "Automatically generated content intended to manipulate search rankings" is now listed as a technique to avoid: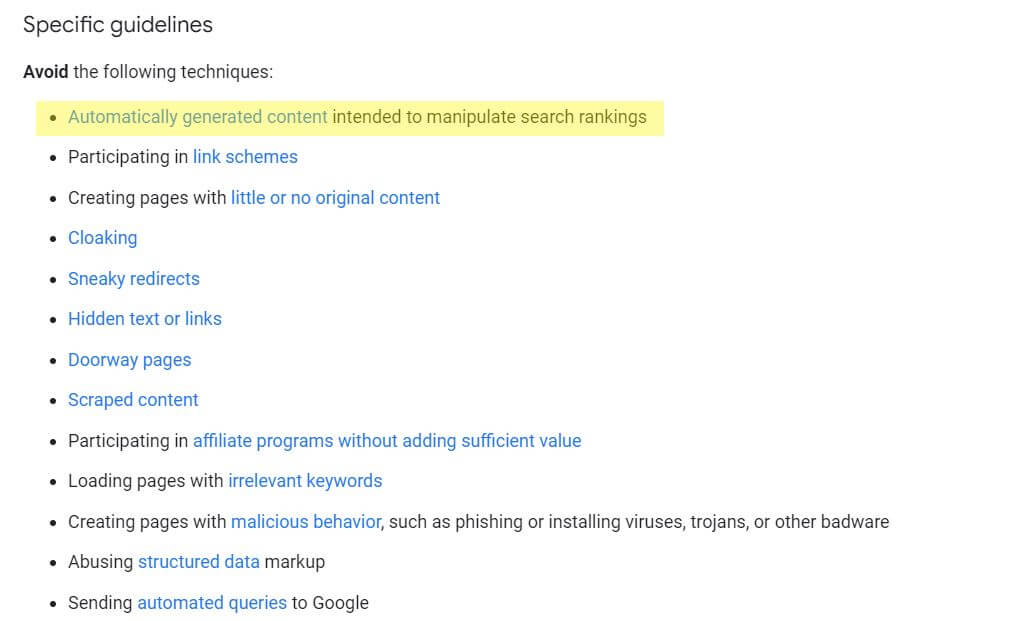 It is not clear if Google's algorithm has the ability to detect auto-generated content, however, Mueller did say that "If we see that something is automatically generated, then the webspam team can definitely take action on that".
Google Rolls Out Conversions Migration Tool For GA4
Google has rolled out a conversion migration tool allowing you to import your existing goals from Universal Analytics to Google Analytics 4. This can be accessed within the GA4 settings screen, in the Setup Assistant tab, under the Conversions section.
In short, the migration tool allows you to quickly recreate goals from a connected Universal Analytics property as conversion events within a GA4 property.
Charles Farina provided a good post about this on Twitter, along with screenshots of where to find it and what to expect:
A step-by-step guide on how to use the tool is below:
In Google Analytics, click Admin.
In the Account column, make sure that your desired account is selected. (If you only have one Google Analytics account, it will already be selected.)
In the Property column, select the Google Analytics 4 property that currently collects data for your website.
In the Property column, click Setup Assistant.
Under Conversions, go to Import existing goals from your connected Universal Analytics property, and click Get started.
In the Import existing goals from your connected property panel, select which goals you'd like to recreate as conversion events in your new Google Analytics 4 property.
Click Import selected conversions in the top right.
Data Studio Now Supports Discover & Google News Traffic
The Google Search Console connector for Data Studio can now retrieve traffic data for Google Discover and Google News. Within the data source connection settings, here's how this can be added:

More information on how to monitor search traffic in Data Studio – including detail on the new connectors – can be found in this Google Search Central Blog titled 'Monitoring Search traffic (and more!) with Data Studio'.
March 2022 Product Reviews Update Finished Rolling Out
The third version of the product reviews update which began rolling out on the 23rd of March, has now officially completed. Google announced on the 11th of April that the March 2022 Product Reviews Update had finished rolling out, taking 19 days to complete.
As previously mentioned in last month's blog – this set of algorithm updates aims to improve how Google Search ranks product reviews; prioritising in-depth, authentic content based on feedback, internal testing, and an evaluation process.
If you found this update useful, check out our latest blog posts for the latest news, and if you're interested in finding out more about what we can do for your brand, get in touch with the team today.