Join Fusion's SEO team as we round up last month's major industry updates.
Desktop Page Experience Algorithm Now Rolling Out
As of Tuesday 22nd February, the Google Page Experience update began rolling out across desktop search results, this is expected to complete by the end of March 2022:
As previously touched on, the desktop algorithm includes the same factors as the mobile page experience update, other than the obvious mobile friendliness, illustrated below:

It is unlikely that sites will see any immediate or at all change in rankings from this update. During the rollout on mobile, Google said "While this update is designed to highlight pages that offer great user experiences, page experience remains one of many factors our systems take into account… Given this, sites generally should not expect drastic changes", we expect this to also apply to desktop.
Multiple Data Losses Within Google Search Console
Google Search Console experienced data losses on two separate occasions throughout February. Firstly, between the 1st and 3rd of February, Google reported a data logging issue within the performance report, relating to Google Search, Google Discover, and Google News.
As a result, site owners may spot some discrepancies in performance data during this period, however, Google says "this is only a logging issue; it does not reflect a change in either user behaviour or search results on Google". The performance report displays an annotation icon to document this.
The second instance of data loss within Google Search Console last month refers to the crawl stats report, site owners are reporting crawl data missing from either one or both of the 8th and 9th February, looking like this:

John Mueller from Google later confirmed on Twitter that this missing crawl data is of no concern:
Google Search Console Snapshot Now Supports Domain Properties
First launched in 2018, the Google Search Console snapshot displays insights from Google Search Console data directly in the search results, for example: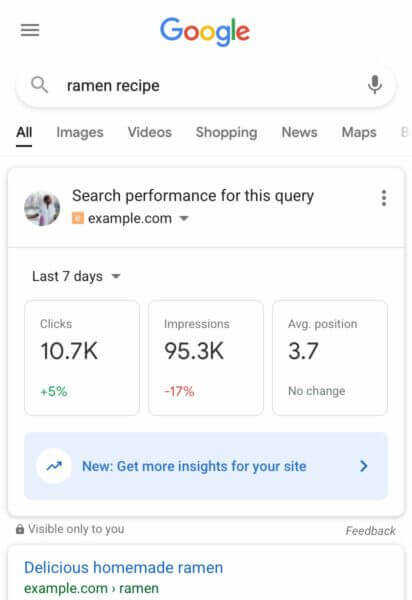 This now supports and will display for all verification methods, after Google announced "we are happy to share that starting today Search Console in Search results feature will also support domain properties".
It is worth remembering that the snapshot will only appear if you are either the full owner or the full user of the site in Google Search Console, you must also be signed in with the correct Google account whilst searching for queries that your site ranks for.
If you found this update useful, check out our latest blog posts for the latest news, and if you're interested in finding out more about what we can do for your brand, get in touch with the team today.