As one year ends, another begins.
Throughout the month, join Fusion's SEO, social and content teams as they explore how 2018 will shape up for digital marketing.
To start, we've identified the challenges of the year ahead and how the content we're creating will change in response to developments both inside and outside our field.
Closing the book on machines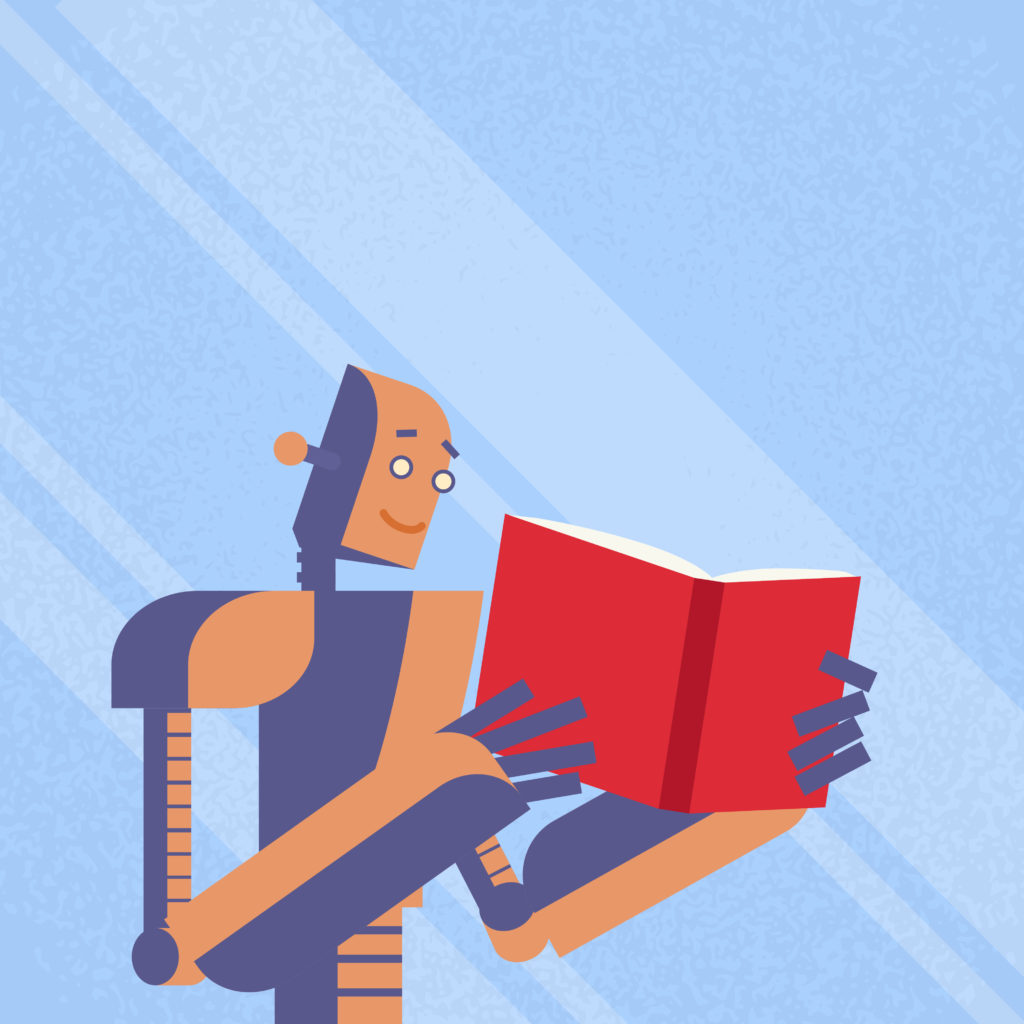 For a large part of SEO's history, keywords have been an essential part of Google's ranking equation.
Initially (and in the most basic of terms), if a site contained myriad mentions of the word 'cat', Google's crawlers—its machine readers which continuously scan the web for new pages and changes in sites' infrastructure—would determine it to be a useful source of cat-related content and raise its ranking position for cat relevant search queries accordingly.
Because of this, many SEOs would create content that tactically targeted keywords with an extremely close focus, which was often at the cost of scansion and readability. In essence, content was being created to be legible not for humans but Google's bookworm machines.
Over the years, Google's algorithm has been continuously refined, to the extent where ranking determination has become the responsibility of an incredibly sophisticated artificial intelligence, which is capable of judging content quality with a critical eye that's very similar to human thought.
As entertaining as it might have been for Google's hivemind to tirelessly wade through gigabyte upon gigabyte of keyword-dense articles, Google has now decided to minimise the bearing of keyword presence on ranking position. If a site's content is unsuitable for human comprehension, Google will now deem its value to be much lower and ranking will be lowered in kind.
This marks a major (and much-needed) change to the field. Ranking will now be much harder to game through content that focuses solely on uncompetitive keywords and high-volume search queries. Instead, in order to have the desired SEO effect and be high quality, content must provide genuine insight that's intelligible for human readers.
Following this, we expect all content writers to turn towards longer form pieces, covering articles comprehensively rather than merely flooding pages with now inert keywords. As a consequence, the web should become much richer with higher quality content, which will be great for both brands and users alike.
Lights, cameras, content
In line with the changes to Google's algorithmic thinking, it's evident today that legibility and content delivery are more crucial considerations in shaping quality content than ever before.
Traditionally, blogposts have been the most common way of providing web users with information. While we don't expect them to vanish from the net, we anticipate another format to soon enter the ascendancy across both desktop and mobile browsers: video.
Chiefly, this is because video has one unique advantage over prose: the capacity for delivering information to your audience with greater flair and creativity. This is particularly apparent if your content features the involvement of influential figures – be they social media influencers or star names.
An excellent example of high standards of branded video is the digital offering of current Premier League leaders Manchester City, whose creative form is almost on par with their footballing ability.
City recently became the first team in the UK to accrue one million followers on YouTube, with an account that regularly posts varied and engaging content featuring a range of their star players and staff, such as tunnel footage before and after matches, unique interviews with players and humorous (and slightly off-kilter) seasonal content, like a Christmas singalong with Kolarov.
The channel combines 'the creativity of De Bruyne, the execution of Aguero and the intelligence of Guardiola', said Tomos Grace, YouTube's head of sport.
In addition, it's arguable that no form of content has showcased a greater potential for reach than video has in recent years. These could come through social shares to users' news feeds and timelines or native views on platforms such as YouTube; with over one billion users, the site's visited by a third of web users worldwide.
The transition from still life to moving pictures might not be one that brands need to do straight away. Nevertheless, we anticipate that video in coming years will become more and more of a feature of brands' creative output and content budgets.
ASA demands greater diversity – and brands need to listen
While Google has started to pay more attention to human reading, many of the world's biggest brands and watchdogs have begun to think more critically about the messages that ads and content are presenting.
One instance of this is new legislation that the Advertising Standards Authority will enforce this year, set to punish campaigns featuring the representation of harmful gender stereotypes.
After undertaking a review of the effect of harmful stereotypes on viewers, the ASA has found that 'harmful stereotypes can restrict the choices, aspirations and opportunities of children, young people and adults'.
'These stereotypes can be reinforced by some advertising, which therefore plays a part in unequal gender outcomes, with costs for individuals, the economy and society'.
These ads are not just negatively impactful – they're also negatively received. A survey undertaken last September by global ad agency Havas Creative found that 47.8% of UK television viewers 'resented' ads presenting negative stereotypes, with women agreeing more strongly than men (at 50% and 45.2% respectively).
It's clear that negative stereotyping not only puts brands in jeopardy with the UK's advertising authorities; it builds distrust between the UK's brands and customers.
Think about your creative content and ads. Are there areas in which your content could be more inclusive of a wider spectrum of people?
Come back next week where our social team will cover what 2018 has in store for Facebook, Twitter, Instagram and more!