Join Fusion's SEO team as they round up last month's major industry updates.
Google's January Algorithm Update
Google released a broad core algorithm on 13th January, which was rolled out over the following 2 weeks. We covered the initial release of this update in a dedicated blog post, which provides a rundown of the update and some useful optimisation information.
Looking at SEMRush's sensor tool, we can see how the algorithm impacted UK rankings: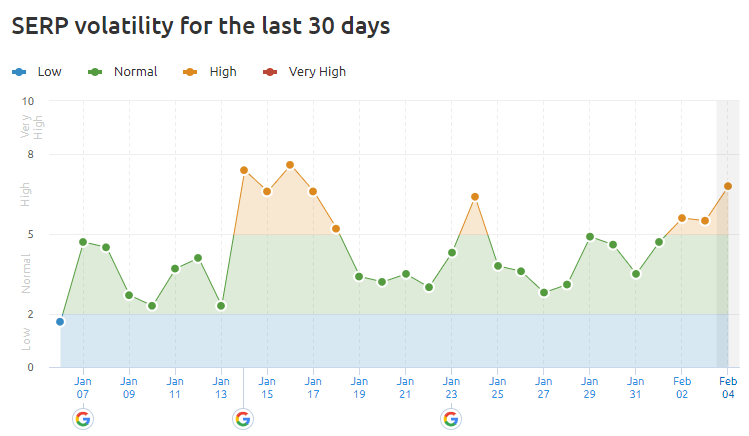 As with all broad core algorithm updates, these target the entire algorithm, rather than having a specific focus, such as site speed or content. Due to this, if a site it negatively impacted by this update, we would recommend checking aspects within Google's core update help sheet, or checking out the checklist in our blog that covers the January 2020 core update.
Google Chrome 80
Google Chrome 80 is due to be released at the start of February. It will contain updates that impact cookies, push notifications and mixed content.
Cookies
Google are recommending that developers define the cookies that a site uses. With the option to choose between two settings (SameSite=Strict or SameSite=Lax), web developers will be able to define if a cookie is to be sent in first party or same-site content (Lax is a good choice for cookies affecting the display of the site, with Strict being useful for cookies related to actions your user is taking). Google also provided the following caution surrounding how these will impact the site's security:
"Neither Strict nor Lax are a complete solution for your site's security. Cookies are sent as part of the user's request and you should treat them the same as any other user input. That means sanitizing and validating the input. Never use a cookie to store data you consider a server-side secret."
Push Notifications
The infamously annoying pop-up notification requests that appear on sites are currently within Google's scope to tackle.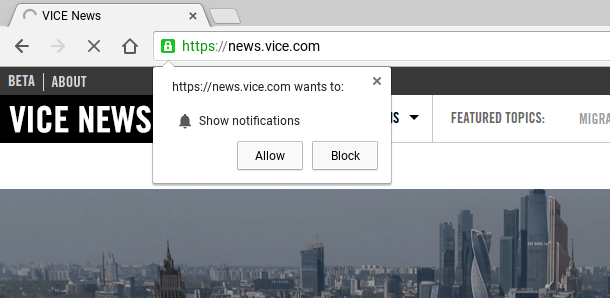 Google have recognised common complaints surrounding push notifications from websites and are looking to block these, as well as enroll their "Quiet UI".
They will be looking to block push notifications for the following scenarios:
For users who consistently block push notifications.
For websites that have low opt-in rates for their notifications.
Google's new "Quiet UI" will alert users that these notifications have been blocked; giving the user an opportunity to unblock the notification.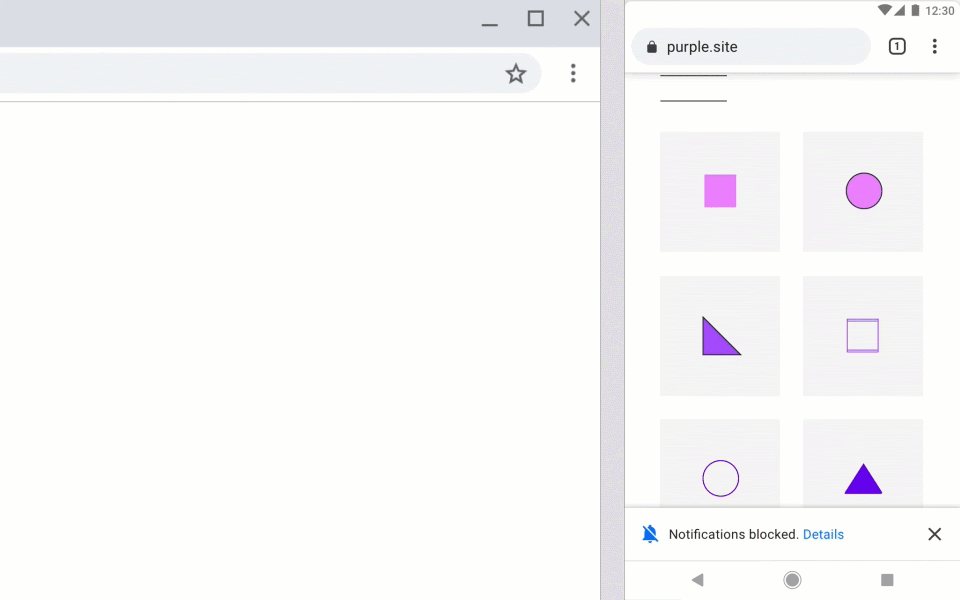 Quiet UI will be available on both desktop and mobile devices.
Mixed Content
As mentioned in a previous blog post, Google are looking to crack down on mixed content on sites. From Google Chrome 79 to 81, Google will be looking to implement stricter rules on how they treat mixed content. With Google Chrome 80 due to be released, Google will implement the following rules:
Mixed audio and video resources will be auto-upgraded to https://, and Chrome will block them by default if they fail to load over https://. Chrome 80 will be released to early release channels in January 2020. Users can unblock affected audio and video resources with the setting described above.
Mixed images will still be allowed to load, but they will cause Chrome to show a "Not Secure" chip in the omnibox. We anticipate that this is a clearer security UI for users and that it will motivate websites to migrate their images to HTTPS. Developers can use the upgrade-insecure-requests or block-all-mixed-content Content Security Policy directives to avoid this warning.
With stricter rules being implemented, we would recommend ensuring all resources have been migrated to https. For more information on Google Chrome's plan to deal with mixed content, please see our dedicated blog post.
Google Updates Their Search Page Design
After rolling out the new search page design on mobile devices in May 2019, Google have now implemented these changed to desktop search pages.
Last year, our search results on mobile gained a new look. That's now rolling out to desktop results this week, presenting site domain names and brand icons prominently, along with a bolded "Ad" label for ads. Here's a mockup: pic.twitter.com/aM9UAbSKtv

— Google SearchLiaison (@searchliaison) January 13, 2020
This new design looks to add site icons to organic searches, while removing the green, highlight AD marker from ads and replacing it with a more discreet, and bolded, AD marker.
After rolling this out, Google has announced that they will be experimenting further with the desktop design.
Google Search Console's New Removals Tool
Google have launched the new version of the removals report within Google Search Console. This report will contain the following features:
Temporary removals will allow users to remove specific content from Google Search results.

'Temporarily remove URL' will hide the URL from Google Search results for about six months and clear the cached copy of the page.
'Clear cache URL' clears the cached page and wipes out the page description snippet in Search results until the page is crawled again.

Outdated content segment will provide information on removal requests made through the public Remove Outdated Content
SafeSearch Filtering section will display any pages on a site that have been reported to Google by users as adult content using the SafeSearch Suggestions
WordPress Look to Add Lazy-Loading as Default
Documentation surrounding WordPress's 5.4 update suggests that WordPress are looking to implement lazy-loading as part of WordPress core. If added, this will be implemented by adding the loading attribute to img tags within the html on the page, rather than adding this with JavaScript code.
Currently, the loading attribute is compatible with the following browsers:
Google Chrome
Chrome for Android
Android Browser
Microsoft Edge
Opera
Google Adds Popular Products to Search
Available only to US users at present, Google have released a "popular products" segment within Google Search pages.
This new segment is an extension of Google Shopping and will display products in relation to the users search, as well as a list of sites that sell time item, the price this is sold at and reviews for the product.
It is free for participating retailers to appear within these search features, as long as the products adhere to Google's best practices.
Check out our latest blog posts for the latest news, and if you're interested in finding out more about what we can do for your brand, get in touch with us today.