Google rolling out mobile-first indexing to more sites
Google has confirmed in a blog post that they have begun migrating sites that follow mobile best practices over to mobile-first indexing.
Some sites are now beginning to receive notifications in their Google Search Console properties that the site has been migrated:
Google said that sites with content that doesn't follow mobile best practice need not worry about this change, but also recommended that they begin to make their content mobile-friendly.
Google core update in early March
Our rank tracking tools detected very high volatility in the search engine results from 2 March to 10 March. Here's what that looked like in SEMrush:
There was a lot of chatter on the SEO forums during this time from webmasters that saw drastic changes in their traffic. Google confirmed that this was a core algorithm update on 12 March:
Each day, Google usually releases one or more changes designed to improve our results. Some are focused around specific improvements. Some are broad changes. Last week, we released a broad core algorithm update. We do these routinely several times per year….

— Google SearchLiaison (@searchliaison) March 12, 2018
Google have not provided a name with which to reference this update.
Captions added to Google Images, taken from page titles
Google has added captions to their image results on mobile. The captions reflect the title of the page from which the image is sourced.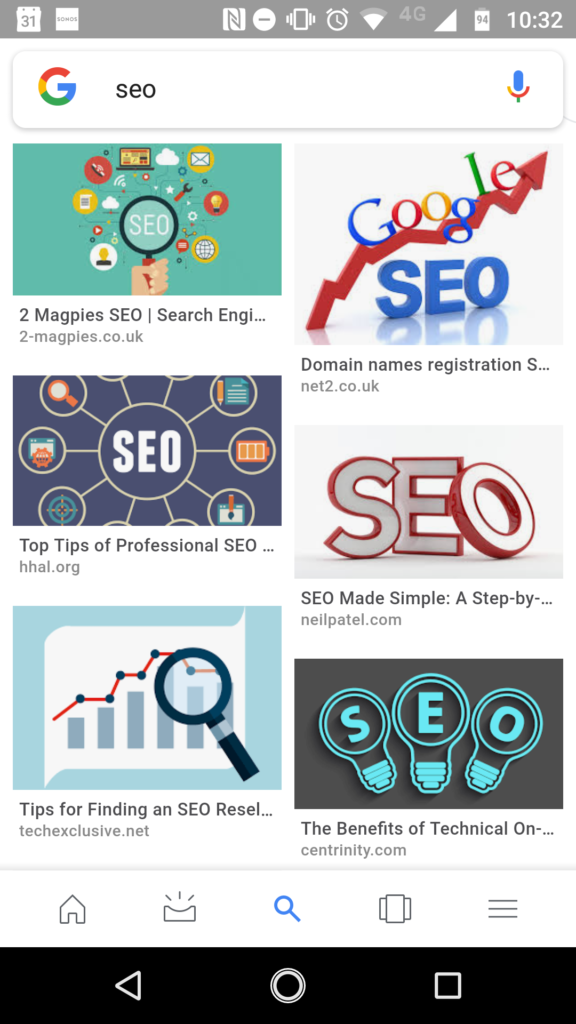 The caption also contains the site's domain. The caption previously contained only the domain. Adding the title gives the image more context; it also means that page titles have become even more important than before.
Bing adds support for JSON-LD schema
Bing confirmed to John Henshaw on Twitter that they now support parsing of JSON-LD schema metadata. Search Engine Land also received confirmation of the support.
This is the most proof I'm offering. My high-level Bing contact said it's not in their webmaster tools yet, but it is supported. So you may have to wait awhile until you can get it in writing (public help doc and/or it appearing in their tools), but I'm moving forward with it. pic.twitter.com/YDiucVOsYc

— Jon Henshaw (@henshaw) March 3, 2018
Google has supported JSON-LD for the past 2 years and has recommended it for most of this time. Previously, Bing has only supported Microdata and RDFa.
Bing said that they are in the process of updating their schema verification in Bing Webmaster Tools to reflect this change.