2017 has been a happening time for digital content: Wendy's broke the retweets record; the world began reacting to the proliferation of suspect news; Twitter doubled its character count; and the world's biggest brands continued capturing our imaginations through brilliant campaigns, as content proved that it firmly remains the king.
HELP ME PLEASE. A MAN NEEDS HIS NUGGS pic.twitter.com/4SrfHmEMo3

— Carter Wilkerson (@carterjwm) April 6, 2017
One of today's greatest producers of digital content is leading music streaming service Spotify. From quirky Times Square billboards to esoteric partnerships with leading franchises like Stranger Things, its creative campaigns have continuously made headlines and captured the popular imagination.
Last month, Spotify rolled out 2017 Wrapped – its end of the year campaign – which may well be their best to date. The campaign collates each user's top one hundred most played songs of 2017 into single playlists, and as users keenly published their enigmatic soundtracks to the year, these quickly filled the web.
Read on for our analysis of how 2017 Wrapped wrapped up Spotify's 2017 so brilliantly.
Excellent presentation leaves excellent impressions
We're all well familiar with the age old aphorism of never judging books by their covers. Nevertheless,  at a point in time when the Internet is brimming with curated content, and users' attention spans are becoming slimmer and slimmer for engaging with the same, it's crucial for content to lead immediately with points of interest that compel.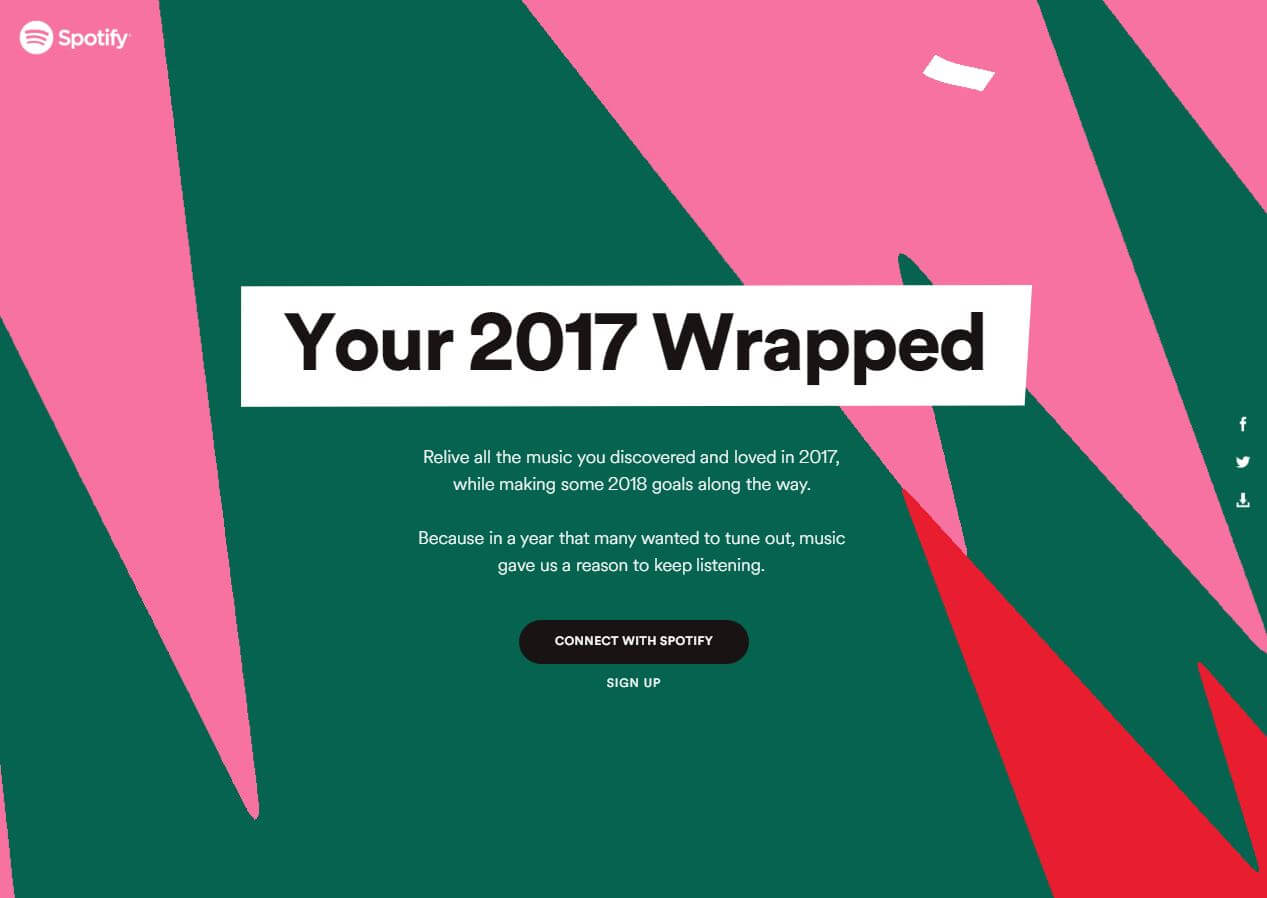 2017 Wrapped's visual elements are perfect.  The campaign is centered on a micro-site with a homepage that's animated, interactive and full of colour and life, which is accompanied by compelling copy that brings a sense of immediacy and gives the tool purpose. With conviction, it states: 'In a year that many wanted to tune out, music gave us a reason to keep listening'.
It's great for your campaign activity to be telling a rich story or glowing with meaningful content. However, it's key for there to be high visual quality to match, to ensure that users engage with your work in the first instance.
Find what your audience loves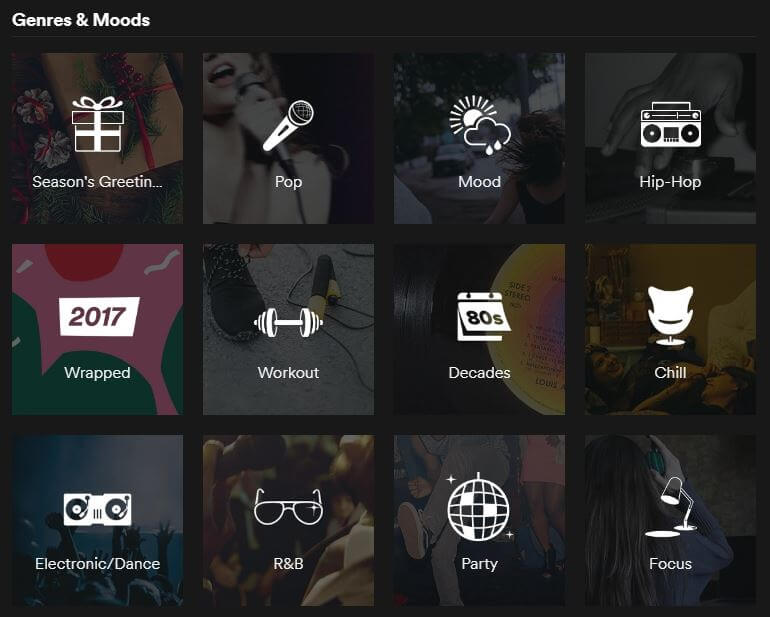 Spotify's USP is how it allows users to freely listen to the songs that they want to hear, in playlists they curate, in orders they arrange.
It's quickly obvious that the personal preferences of its listeners lies at the heart of the service.
2017 Wrapped links into these very same sentiments, creating content that's unique to every user, which means that they're more inclined to engage with the content.
Think about what motivations inspire engagement with your business or service. How could your content provide for them?
Increase engagement opportunities by going one step further
As extra elements of the campaign, Spotify included self-curated playlists covering the year's most popular hits, such as 'UK Top Female Artists 2017', 'UK Top Male Artists 2017' and 'Top Groups of 2017 ', and a quiz testing your knowledge of your listening habits.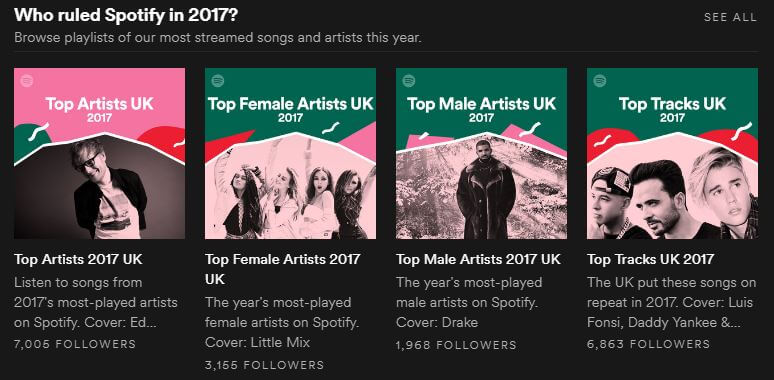 By no means were these the main drivers of user interest. However, they proved to be simple ways of increasing the campaign's breadth, which required minimal effort to make and expanded the opportunities for engagement.
Identify unique opportunities to create unique user experiences
2017 Wrapped creates Spotify playlists using data that none of Spotify's competitors can access.
As such, the deliverables that 2017 Wrapped returns are genuinely original – they've never happened before and there's nothing like them – which is an incredibly valuable asset at a time when every brand is competing for attention and clicks.
Netflix's recent social activity has taken a similar direction, combining its data with inventive copy to hit enormous engagement figures on social:
To the 53 people who've watched A Christmas Prince every day for the past 18 days: Who hurt you?

— Netflix "Mariah Carey's Merriest Christmas" US (@netflix) December 11, 2017
Whilst GDRP need to be closely adhered to, think about the data you have that could be made into meaningful content. Be sure to make the most of the opportunity!
And let users share their results
Once a user has generated their playlist, they're able to share it to their social feeds.
Though each share has a relatively microscopic reach, on a macrocosmic level they fulfill an essential branding purpose, as each sharing user becomes a brand advocate promoting Spotify's created content to new audiences, driving expansive visibility and facilitating new user engagement opportunities.
When you've made excellent content that tells a compelling story, be sure for it to be easily sharable. Beyond anything else, your excellent work deserves all the reach it can get!
We'll be back in 2018 to cover all the wonderful content the New Year has in store. In the meantime, we wish you all a very Merry Christmas and a wonderful New Year!