This November we attended Facebook Blueprint Live, an interactive training day exploring practical advice for running a successful Facebook advertising campaign, including tips for developing creative ideas that will stand out on competitive news feeds.
Defining goals
There are many objectives Facebook marketing can achieve:
Brand awareness – make as many potential customers aware of your brand as possible
Reach – put your brand in front of relevant audiences who may be interested in your products or services
Traffic – generate visits to your site
Video views – encourage users to watch your video to the end
Lead generation – collect information about people who are interested in your business to follow up with later
Store visits – increase foot traffic to bricks and mortar shopping destinations
Local awareness – promote your brand to residents and visitors in the immediate area
App installs – encourage as many people as possible to install your app on their smartphone
And website conversions –stimulate your brand's digital sales
For many clients, conversions are the main consideration (and the main way return on investment is measured). However, it's not advisable to go straight for conversions as an initial goal. Not all users will be at the conversion (or even consideration) point of the sales funnel when your ad reaches them, so, strategically, it makes sense to begin by raising brand awareness, then retarget users who engaged with your content, and then engage this even smaller pool with sales focused content to prompt a conversion.
Using video in Facebook advertising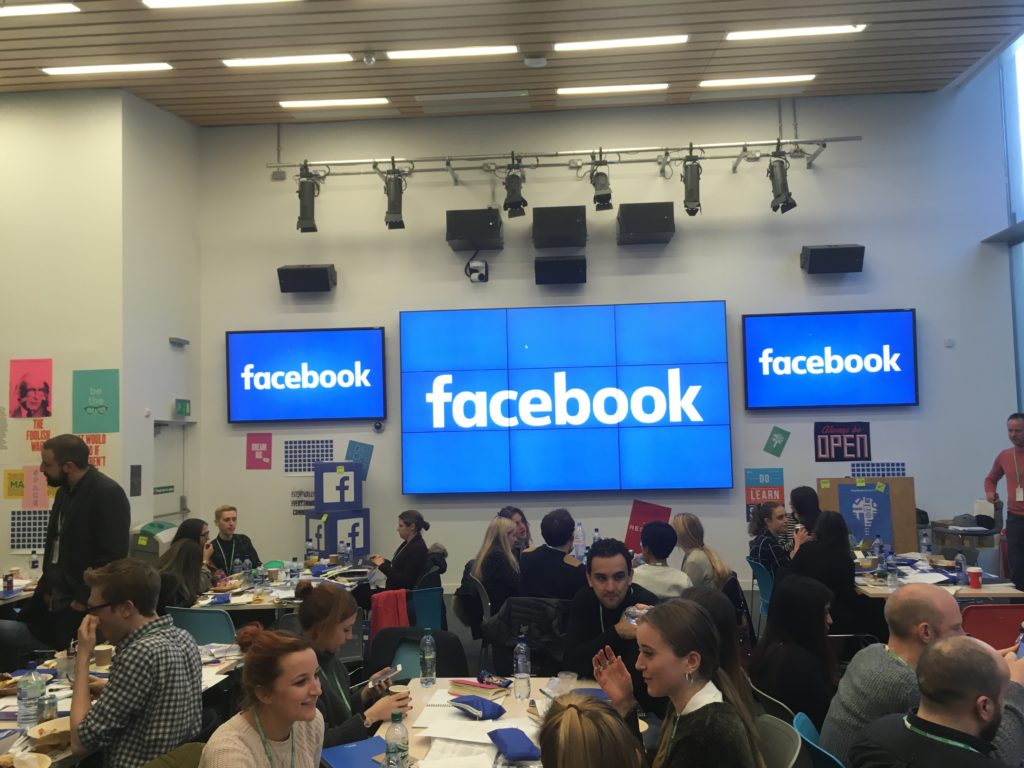 One of the key messages we took from Blueprint Live is that video content is the present, rather than the future, and that social agencies should be putting video firmly at the focus of current content strategies.
According to Facebook, the average advertising video is 15 seconds or shorter. So, aim for brevity and directness when creating video content. The challenge is to tell a compelling story in limited time, encourage users to watch right until the end, and create a video that 'fits' naturally onto your target users' timelines.
This clever example of a snappy video ad from Taco Bell lampoons the incredibly popular 'Tasty' instructional cooking videos and is a good example of a familiar yet unique take on a sponsored video post:
Think vertical
Unlike traditional TV advertising, the vast majority of mobile videos are optimised vertically, rather than horizontally, which means all photos and videos should be shot with this in mind. When creating video or creative content for Facebook, work mobile first, ensuring the experience for smartphone users is perfect, and then worry about optimising for desktop.
Hit the target
Amazing creative without clever targeting is doomed to fail. Strategic targeting of different audiences can present an opportunity to tailor creative to each demographic. For example: a jewellery brand may want to advertise its products directly to an affluent female audience, as well as targeting men with ads focused on gifting.
Delight without sound
Videos on Facebook auto play without sound, but Facebook says that 60% of brands still create videos that cannot be understood without audio.
When creating video ads, either ensure that the narrative can be understood without sound, or include clear subtitles right from the first frame.
The below video from Hotels.com is a brilliant example of knowingly acknowledging the limitations of silent videos, while encouraging viewers to watch right to the end of the clip:
Three second window
The average time to scroll a full screen on a smartphone is 2.7 seconds, giving advertisers a 3 second or lower window to catch the attention of notoriously fickle social media audiences.
Younger audiences scroll even quicker, giving advertisers just 2 seconds to stop the scroll and encourage users to engage. For video content, this means creating an opening shot that sparks curiosity immediately and avoiding drawn out introductions (or introductions in general).
GIFs and Cinemagraphs
Video may be the present (and future), but they are also extremely expensive to produce.  A handy compromise to add movement to your advertising posts is using GIFs and cinemagraphs – short, repeating videos with subtle animation that doesn't require as much time or budget as a full length video. Check out some examples of this below:
From @CBickfordSmith comes The Worm and the Bird, a book about searching and hoping, and how the smallest moment can be beautiful. https://t.co/2J68aO0Q1v pic.twitter.com/xm67Y9XrlD

— Penguin Books UK (@PenguinUKBooks) 30 November 2017
The task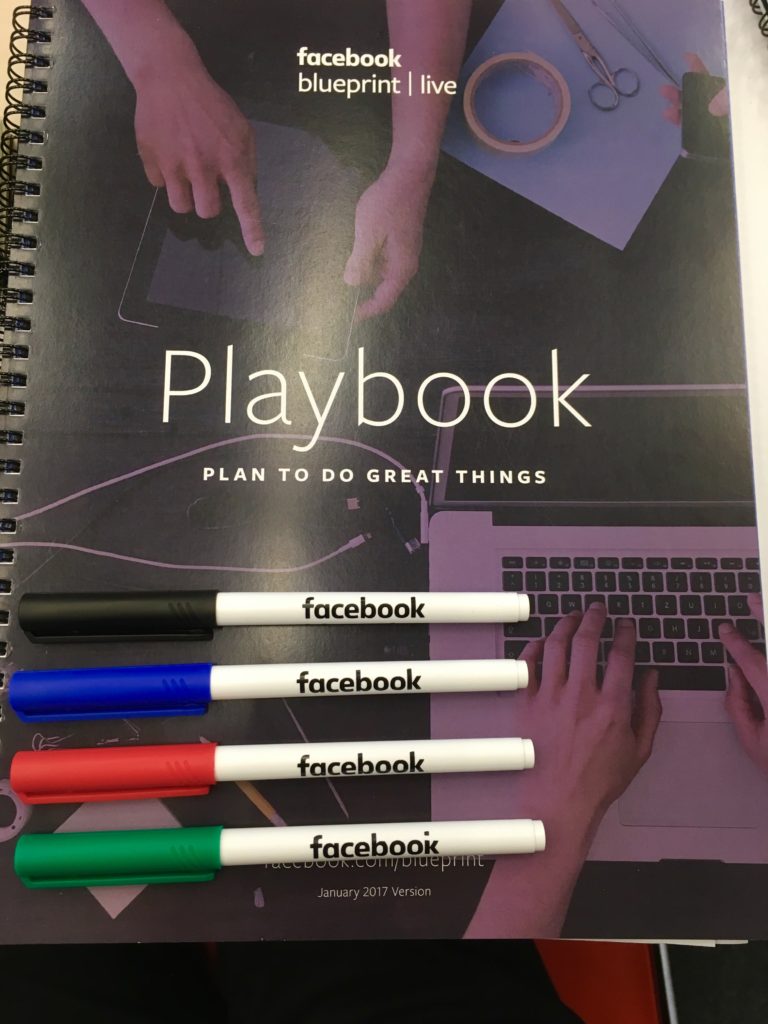 We were split into groups and given a task to create a social media advertising campaign for a randomly selected client. The task was split into several stages, culminating with a presentation about our campaign in front of the attendees and judged by a panel (incentivised with a mystery prize for the winning teams).
Each table received a brief from a fictional institution. In our case, it was from Wright Bank, a made-up financial company with a broad range of products (no frills credit cards, car insurance, retirement plans) and a fifty-year legacy within the UK.
Targeting
Targeting was our first important consideration – we created our customer personas based on the goals and products of the client. In my team's case this was:
Young people looking to build credit with a no frills credit card
Couples looking for a great deal on a mortgage
Older consumers looking ahead to retirement plans
Creative
The creative for our campaign involved focusing on the young adult and college student audience to boost awareness and conversions, which manifested itself in a video wherein a 20-25-year-old's head was placed on an infant's body – an admittedly bizarre concept in the cold light of day.
The concept was intended to be surreal enough to stand out on a news feed within a few seconds, and to acknowledge the infantilising effect that financial insecurity can have for young people, presenting the credit card as a means of escaping this.
Presentation
We presented our ideas to the group (our illustrations of 'the credit card kid' raised a few laughs/eyebrows depending on the individual), which went down a treat. We weren't the most polished of teams, but we definitely enjoyed ourselves in the creation of the campaign. And so…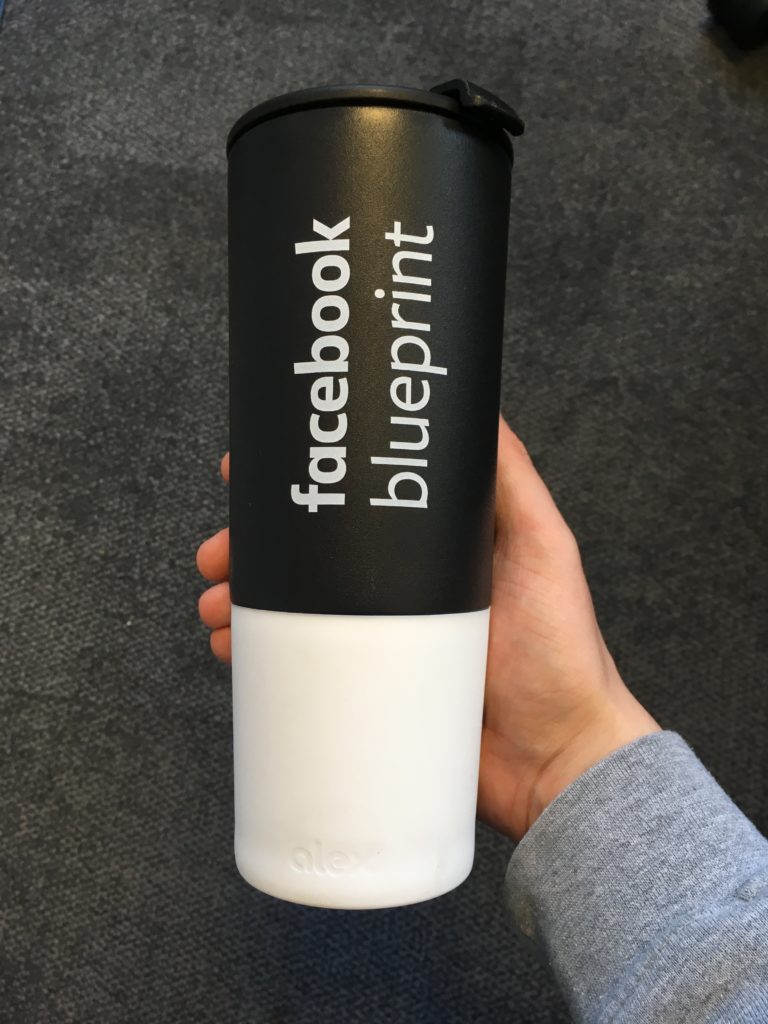 To the (third joint) victor, the spoils. We capped the day off by winning an extremely practical prize in the form of this Facebook flask.
All in all, a useful, enlightening experience, and a chance to gain insights about Facebook's advertising platform straight from the proverbial horse's mouth. If you want to learn more about Facebook advertising, check out Facebook Blueprint for resources and advice for all skill levels.